Sternohyoid muscle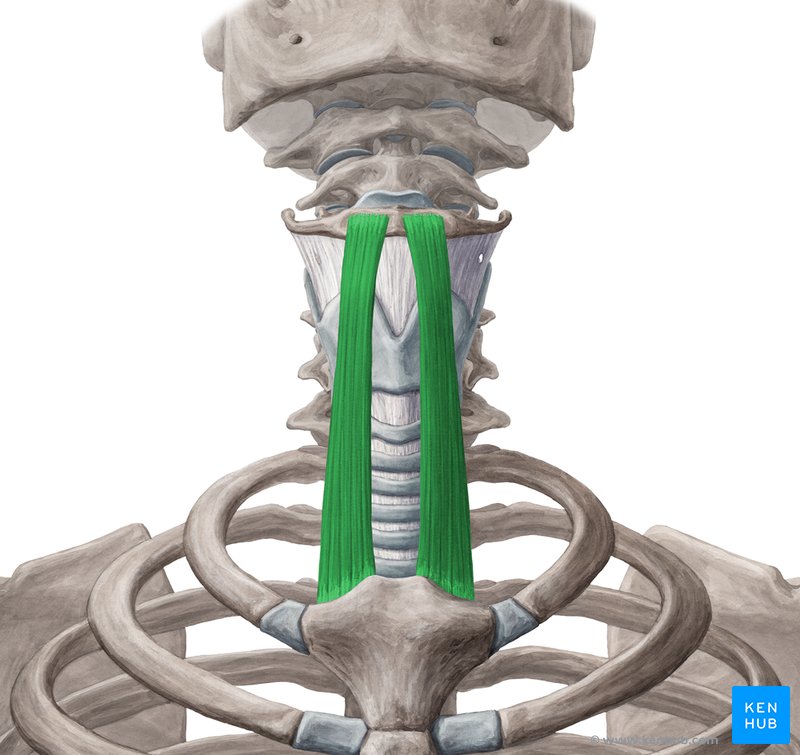 The sternohyoid is a strap like infrahyoid muscle that connects the hyoid bone with the clavicle and sternum. 
Along with the omohyoid muscle, it comprises the superficial plane of infrahyoid muscles, while the sternothyroid and thyrohyoid belong to the deep layer. The function of this muscle is to reestablish the breathing process by pulling the hyoid bone and larynx inferiorly after deglutition.
This article will discuss the anatomy of the sternohyoid muscle.
Key facts about the sternohyoid muscle

| | |
| --- | --- |
| Origin | Manubrium of sternum, medial end of clavicle |
| Insertion | Inferior border of body of hyoid bone |
| Action | Depresses hyoid bone (from elevated position) |
| Innervation | Anterior rami of spinal nerves C1-C3 (via ansa cervicalis) |
| Blood supply | Superior thyroid artery |
Sternohyoid muscle: want to learn more about it?
Our engaging videos, interactive quizzes, in-depth articles and HD atlas are here to get you top results faster.
What do you prefer to learn with?
"I would honestly say that Kenhub cut my study time in half." – Read more.
Kim Bengochea, Regis University, Denver

© Unless stated otherwise, all content, including illustrations are exclusive property of Kenhub GmbH, and are protected by German and international copyright laws. All rights reserved.