Thymus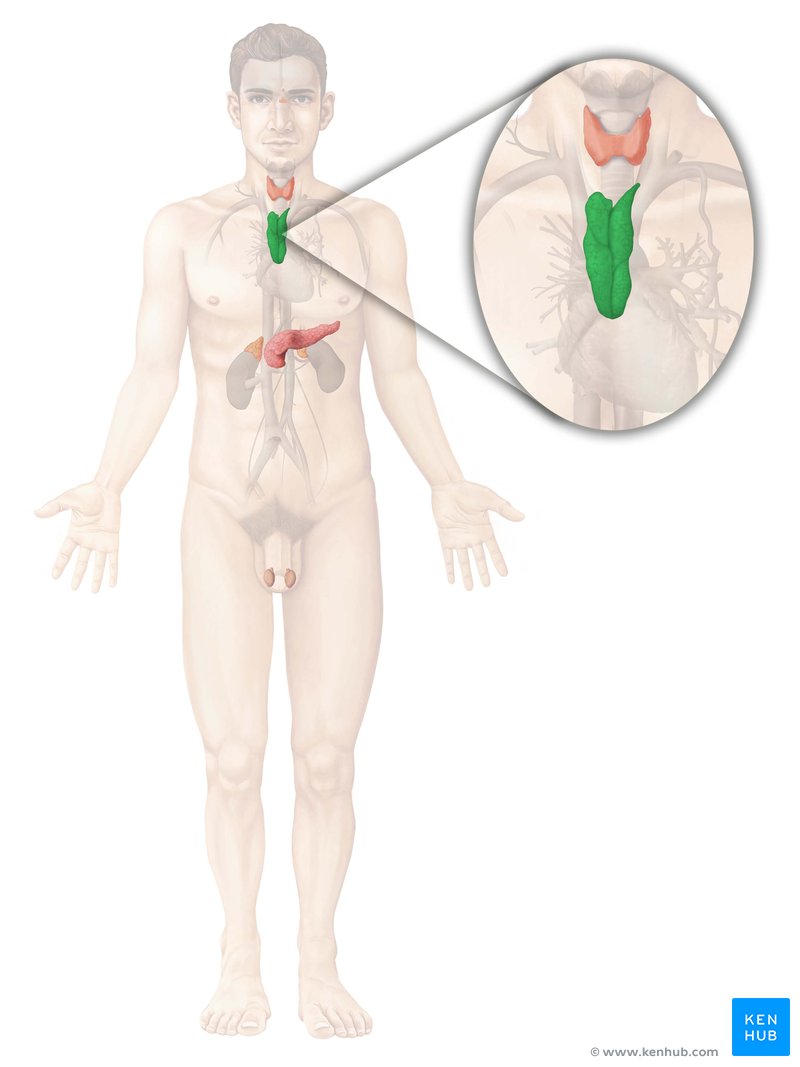 The thymus is a primary lymphoid organ located in the mediastinum. It consists of two lobes connected by an isthmus. Histologically, the thymus is divided into lobules, each one consisting of a central medulla and a peripheral cortex. 
The thymus is an essential component of our immune systems. It functions as the initial site of T cell immune maturation through positive and negative selection processes. T cells gain their name as they mature in the thymus and B cells are so named, as they mature in the bone marrow.
This article will describe the anatomy, histology and function of the thymus.
Key facts about the thymus
Location
Extends between the thyroid gland (superiorly) and fourth costal cartilage (inferiorly) within the superior mediastinum and anterior part of inferior mediastinum.
Structure
Macroscopic: two lobes interconnected by an isthmus
Microscopic: capsule, septa, cortex (peripheral), medulla (central), corticomedullary junction

Blood supply
Internal thoracic artery, thyroid arteries (superior, inferior)
Innervation
Vagus nerve and sympathetic trunk
Function
Location where haemopoietic precursor cells mature into T cells via positive and negative selection.
Clinical points
Thymomas
This is an uncommon tumour arising from the epithelial cells of the thymus gland. It has an association with myasthenia gravis in 20% of patients. Other risk factors include advanced age and Asian ethnicity. Symptoms are caused by the expanding tumour compressing surrounding structures, e.g. vena cava compression, dysphagia, cough, chest pain etc. Diagnosis is made by a CT scan, and treatment is surgery with additional chemotherapy and radiotherapy in some cases.
Myasthaenia gravis
This is an autoimmune condition characterized by worsening tiredness as the day goes on, and muscles are used. The symptoms result from autoimmune destruction of the acetylcholine receptors found in postsynaptic neuromuscular junctions due to autoantibodies.
Diagnosis is made with the tensilon test (edrophonium; a short acting acetylcholinesterase inhibitor is given to the patient) that temporarily improves symptoms. Treatment is with long acting acetylcholinesterase inhibitors, as well as immunosuppressant drugs. Surgery to remove the thymus gland (and hence reduce the number of autoantibodies) is also a treatment option.
Prognosis of the condition is generally good. If the medication is well adhered, the quality of life is also good. Patients require monitoring over the first few years as many patients have a myasthenia crisis within this time.
Di George syndrome (22q deletion)
In this syndrome there is an aplasia of the thymus that causes profound detrimental effect on T-cell development and causes immunodeficiency and hence susceptibility to infections. No other white blood cells are affected. The other features of this syndrome are the cardiac abnormality, cleft palate and hypoparathyroidism.
Thymus: want to learn more about it?
Our engaging videos, interactive quizzes, in-depth articles and HD atlas are here to get you top results faster.
What do you prefer to learn with?
"I would honestly say that Kenhub cut my study time in half." – Read more.
Kim Bengochea, Regis University, Denver

© Unless stated otherwise, all content, including illustrations are exclusive property of Kenhub GmbH, and are protected by German and international copyright laws. All rights reserved.