Sublingual gland
The sublingual glands are the smallest of the three major pairs of head salivary glands, since the salivary glands are divided into major and minor categories. The major glands are entire masses of secretory tissue with a single duct that connects the exocrine glands with the oral cavity, while the minor glands are individual exocrine glands that secrete directly into the oral cavity via their own individual ducts that are part of their makeup. This is where the sublingual glands, although classed as major glands, fall into both categories. They are collectives exocrine tissue masses, but they have many ducts that open in the area in which they are situated.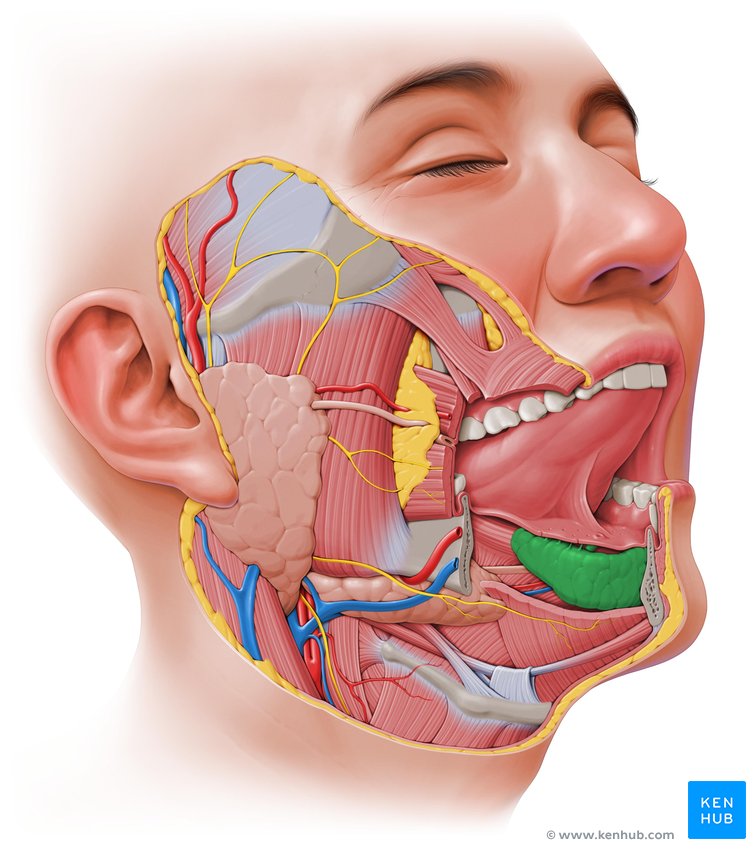 Clinical aspects
There are several pathological disorders that can occur in both the minor and the major salivary glands. Since the sublingual glands have traits from both categories, they are most likely to be affected by a bacterial or viral infection. This can cause pain and a hard swelling in the gland that is infected.
Staphylococcus bacteria is the most common bacterial form of infection, while the viruses that can inhabit the salivary glands include the Cytomegalovirus (CMV), the Epstein-Barr virus (EBV), the Coxsackie virus and HIV. Treatment includes antibiotics or antivirals.
Sublingual gland: want to learn more about it?
Our engaging videos, interactive quizzes, in-depth articles and HD atlas are here to get you top results faster.
What do you prefer to learn with?
"I would honestly say that Kenhub cut my study time in half." – Read more.
Kim Bengochea, Regis University, Denver

© Unless stated otherwise, all content, including illustrations are exclusive property of Kenhub GmbH, and are protected by German and international copyright laws. All rights reserved.