Learn skull anatomy with skull bones quizzes and diagrams
So, you want to learn the anatomy of the skull? You've come to the right place. The skull is a complex structure comprising over twenty bones and more than sixty foramina. And in turn, it houses the most complex organ in the body - the brain! As such, it's a hugely important part of our anatomy. 
How can you go about learning it? In this article, we're going to show you. Get your printer, pens and pencils at the ready; grab a drink, and get comfy. It's time to learn!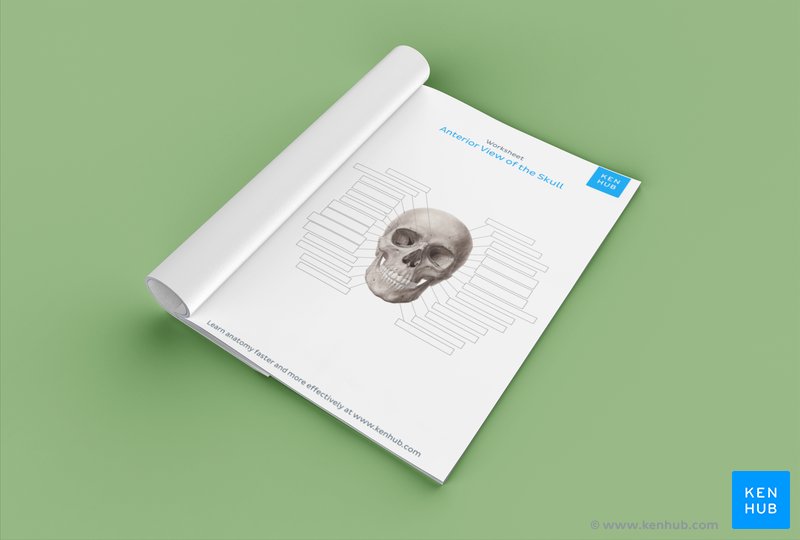 Skull anatomy diagrams
As mentioned, the skull is home to so many structures that the prospect of learning them all can seem very overwhelming. An easy step-by-step system for breaking the topic down then, is essential. For this, we love labeled diagrams. 
Labeled Skull Diagram 
The idea behind using labeled diagrams is to get an overview of all of the structures within a given area. When it comes to testing your memory of these structures, previously having seen them altogether as a group should help you to remember them more easily. 
Before you use our skull diagrams free to download below, it's helpful to get some context. Understanding the function of a structure is sure to help you remember it better. For this, take a look at our video below on the anterior and lateral views of the skull.
Blank Skull Diagram 
Once you've done that, it's time to learn anatomy with our skull labeling quiz. We've created a blank skull diagram free for you to download as A PDF below. You can also download the labeled version and use this to make some notes. Ready to test your knowledge?
Download PDF Worksheet (blank) Download PDF Worksheet (labeled)
Are there any other tools you can use to learn skull anatomy? Absolutely - the skull diagrams were simply a warm up! The most powerful tool for quick, easy, stress-free learning of the skull bones are quizzes. Let's explore them now.
Learn Faster with Skull Quizzes 
Whether you're a total beginner, intermediate level or advanced learner, we have several types of anatomy quizzes that you can use to study the anatomy of the skull. The great thing about our quizzes is that, depending on your current knowledge levels, you can use them to learn a topic from scratch or simply to fill in your knowledge gaps. 
Did you know you can learn skull anatomy using our interactive anatomy games? They're fun AND effective!
Have a browse through our selection of skull quizzes below.  Don't worry if you get things wrong, to begin with. Our clever algorithm automatically learns which areas you need more help with based on your answers, and questions you on them more frequently in accordance. Neat, huh?!
Try this quiz below!
Do you enjoy the approach of using quizzes and labeled diagrams to learn anatomy? Check out our anatomy practice quizzes and diagrams on every topic!
Learn skull anatomy with skull bones quizzes and diagrams: want to learn more about it?
Our engaging videos, interactive quizzes, in-depth articles and HD atlas are here to get you top results faster.
What do you prefer to learn with?
"I would honestly say that Kenhub cut my study time in half." – Read more.
Kim Bengochea, Regis University, Denver

© Unless stated otherwise, all content, including illustrations are exclusive property of Kenhub GmbH, and are protected by German and international copyright laws. All rights reserved.