Biceps femoris muscle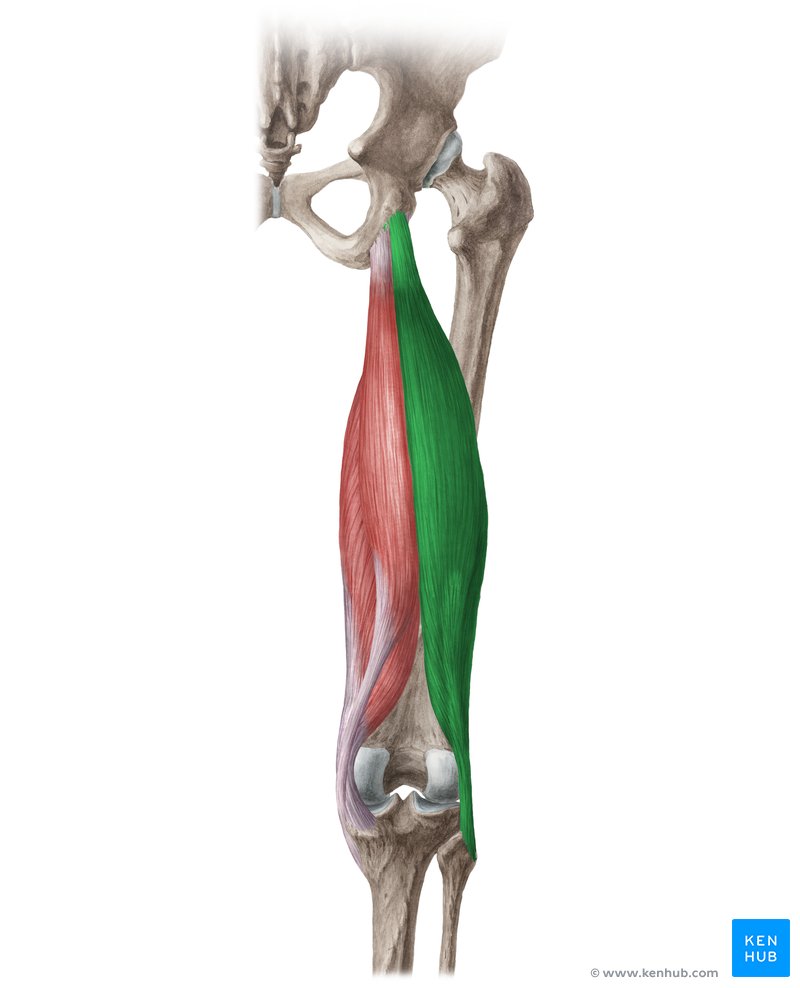 Biceps femoris is a long muscle of the posterior aspect of the thigh. Together with the semitendinosus and semimembranosus muscles, it makes the group of muscles commonly known as the hamstrings.
The biceps femoris muscle runs from the ischial tuberosity, all the way to the proximal part of the fibula. In doing so the muscle crosses two joints; the hip joint and the knee joint. Acting simultaneously on these joints, biceps femoris has many important functions; flexion and external rotation at the knee joint, extension and external rotation in the hip joint.
As its name suggests, this muscle consists of two heads, one lying deep to the other. Each head has a different origin and innervation but they share the same insertion.
In this article, we will discuss the anatomy and function of the biceps femoris muscle.
Key facts about the biceps femoris muscle
Origin
Long head: (inferomedial impression of) ischial tuberosity, sacrotuberous ligament 
Short head: linea aspera of femur (lateral lip), lateral supracondylar line of femur
Insertion
(Lateral aspect of) head of fibula
Action
Hip joint: thigh extension, thigh external rotation; 
Knee joint: leg flexion, leg external rotation; stabilizes pelvis
Innervation
Long head: tibial division of sciatic nerve (L5-S2) 
Short head: common fibular division of sciatic nerve (L5-S2)
Blood supply
Inferior gluteal artery, perforating arteries, popliteal artery
Biceps femoris muscle: want to learn more about it?
Our engaging videos, interactive quizzes, in-depth articles and HD atlas are here to get you top results faster.
What do you prefer to learn with?
"I would honestly say that Kenhub cut my study time in half." – Read more.
Kim Bengochea, Regis University, Denver

© Unless stated otherwise, all content, including illustrations are exclusive property of Kenhub GmbH, and are protected by German and international copyright laws. All rights reserved.