Inferior oblique muscle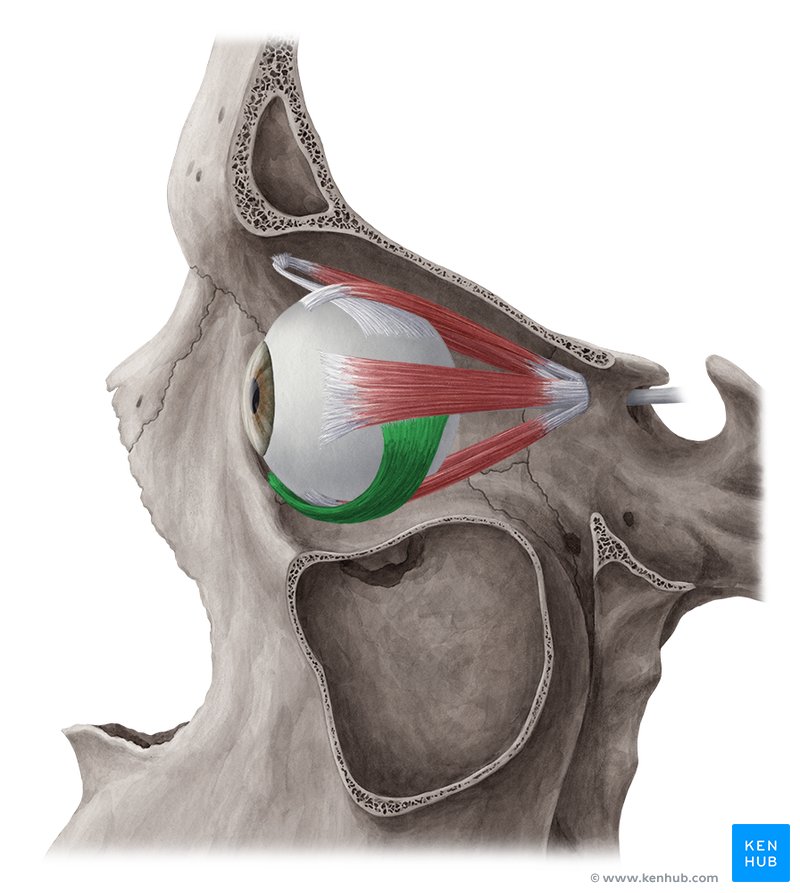 Inferior oblique is a thin, narrow muscle of the eye. It is one of the 6 extraocular muscles, also referred to as the extrinsic muscles of the orbit.
Like the other eye muscles, inferior oblique is named by its position within the orbit, relative to the eyeball. It occupies the inferior aspect of the orbit, encircling the lower portion of the eyeball.
The primary action of this muscle is to elevate and abduct (laterally move) the eyeball. It acts in a coordinated manner with the other extraocular muscles to control the movements of the eye; positioning the pupil and adjusting the direction of the gaze.
This article will discuss the anatomy and function of the inferior oblique muscle.
Key facts about the inferior oblique muscle

| | |
| --- | --- |
| Origin | Orbital surface of maxilla |
| Insertion | Inferolateral aspect of eyeball (deep to lateral rectus muscle) |
| Action | Abducts, elevates, externally rotates eyeball |
| Innervation | Oculomotor nerve (CN III) |
| Blood supply | Ophthalmic artery, infraorbital artery |
Inferior oblique muscle: want to learn more about it?
Our engaging videos, interactive quizzes, in-depth articles and HD atlas are here to get you top results faster.
What do you prefer to learn with?
"I would honestly say that Kenhub cut my study time in half." – Read more.
Kim Bengochea, Regis University, Denver

© Unless stated otherwise, all content, including illustrations are exclusive property of Kenhub GmbH, and are protected by German and international copyright laws. All rights reserved.