Medial rectus muscle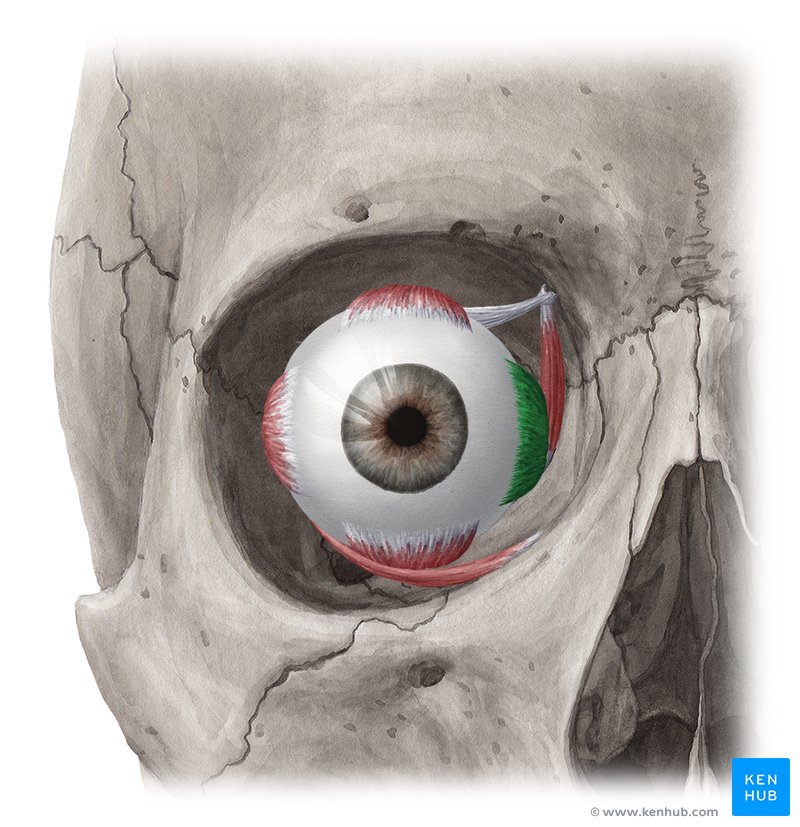 Medial rectus is one of the six extraocular muscles located in the orbit. Attaching between the bony walls of the orbit and the eyeball, these muscles serve to synchronously move the eyes. Besides medial rectus, this group of muscles also gathers the superior rectus, inferior rectus, lateral rectus, superior oblique and inferior oblique muscles. Notice how these muscles are divided into four recti and two oblique muscles. The former move the eyes in the four cardinal directions, while the latter adjust the position of the eyeball depending on the position of the head.
Like the other recti muscles, medial rectus arises from a connective tissue ring located at the apex of orbit, called the common tendinous ring (annulus of Zinn). The muscle attaches to the medial side of anterior half of eyeball, therefore adducting the eyeball when contracting.
Key facts about the medial rectus muscle

| | |
| --- | --- |
| Origin | Common tendinous ring (annulus of Zin) |
| Insertion | Anterior half of eyeball medially (posterior to corneoscleral junction) |
| Action | Adducts eyeball |
| Innervation | Oculomotor nerve (CN III) |
| Blood supply | Ophthalmic artery |
This article will discuss the anatomy and function of the medial rectus muscle.
Clinical relations
Medial rectus palsy
Weakness of any of the extraocular muscles causes the affected eye to move away from it's primary position, under the influence of a healthy antagonistic muscle. So damage to the medial rectus muscle would affect the normal position of the eyes by diverging the affected eye toward the pull of lateral rectus muscle, i.e. the eye would move laterally. In addition, synchrony of ocular movements in the horizontal axis would also be damaged. 
Weakness of the medial rectus muscle can happen for five reasons;
Oculomotor nerve palsy and/or oculomotor nucleus injury (e.g. cavernous sinus thrombosis or cerebral infarction)
Impaired neuromuscular transmission (e.g. in myasthenia gravis)
Localized diseases that primarily affect the muscle (e.g. oculopharyngeal muscular dystrophy)
Systemic diseases that also affect the ocular muscles (e.g. mitochondrial diseases)
Diseases of other organs that secondarily affect the muscle (e.g. thyroid ophthalmopathy as part of Graves disease)
Typical signs and symptoms of medial rectus palsy are divergent strabismus and consequential diplopia. Treatment is based on discovering the cause of the palsy and treating it.
Medial rectus muscle: want to learn more about it?
Our engaging videos, interactive quizzes, in-depth articles and HD atlas are here to get you top results faster.
What do you prefer to learn with?
"I would honestly say that Kenhub cut my study time in half." – Read more.
Kim Bengochea, Regis University, Denver

© Unless stated otherwise, all content, including illustrations are exclusive property of Kenhub GmbH, and are protected by German and international copyright laws. All rights reserved.