Superior rectus muscle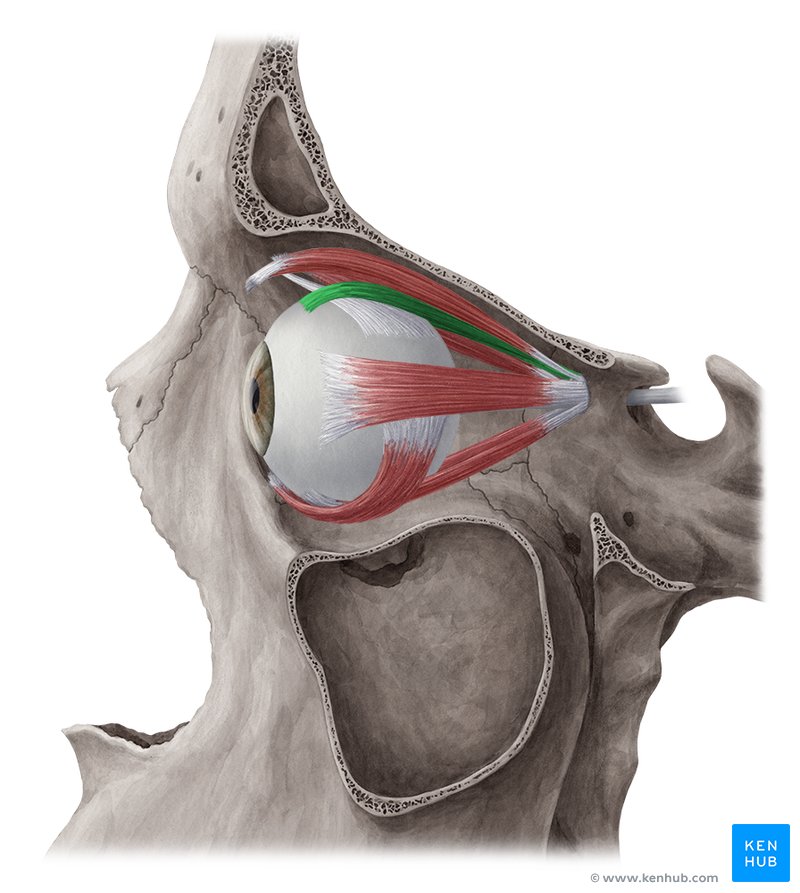 Superior rectus is one of the extrinsic muscles of the eye. Being located outside the eyeball but within the orbit, it belongs to a group called the extraocular muscles. This group of muscles serves to move the eyes within the orbit. It includes the superior rectus, inferior rectus, medial rectus, lateral rectus, superior oblique and inferior oblique muscles. Notice how these muscles can be divided into four recti and two oblique muscles.
The four recti muscles all arise from a connective tissue ring called the common tendinous ring (annulus of Zin). This is located at the apex of orbit, surrounding the optic canal. Respectively, the recti muscles insert onto the superior, inferior, medial and lateral sides of the eyeball. Based on their global attachments, these muscles serve to move the eyes in the four cardinal directions, with superior rectus producing elevation, adduction and internal rotation of the eyeball.
Key facts about the superior rectus muscle

| | |
| --- | --- |
| Origin | Common tendinous ring (Annulus of Zinn) |
| Insertion | Anterior half of eyeball (posterior to corneoscleral junction) |
| Action | Elevates, adducts, internally rotates eyeball  |
| Innervation | Oculomotor nerve (CN III) |
| Blood supply | Ophthalmic artery, supraorbital branch of ophthalmic artery |
This article will discuss the anatomy and function of the superior rectus muscle.
Superior rectus muscle: want to learn more about it?
Our engaging videos, interactive quizzes, in-depth articles and HD atlas are here to get you top results faster.
What do you prefer to learn with?
"I would honestly say that Kenhub cut my study time in half." – Read more.
Kim Bengochea, Regis University, Denver

© Unless stated otherwise, all content, including illustrations are exclusive property of Kenhub GmbH, and are protected by German and international copyright laws. All rights reserved.