Superior oblique muscle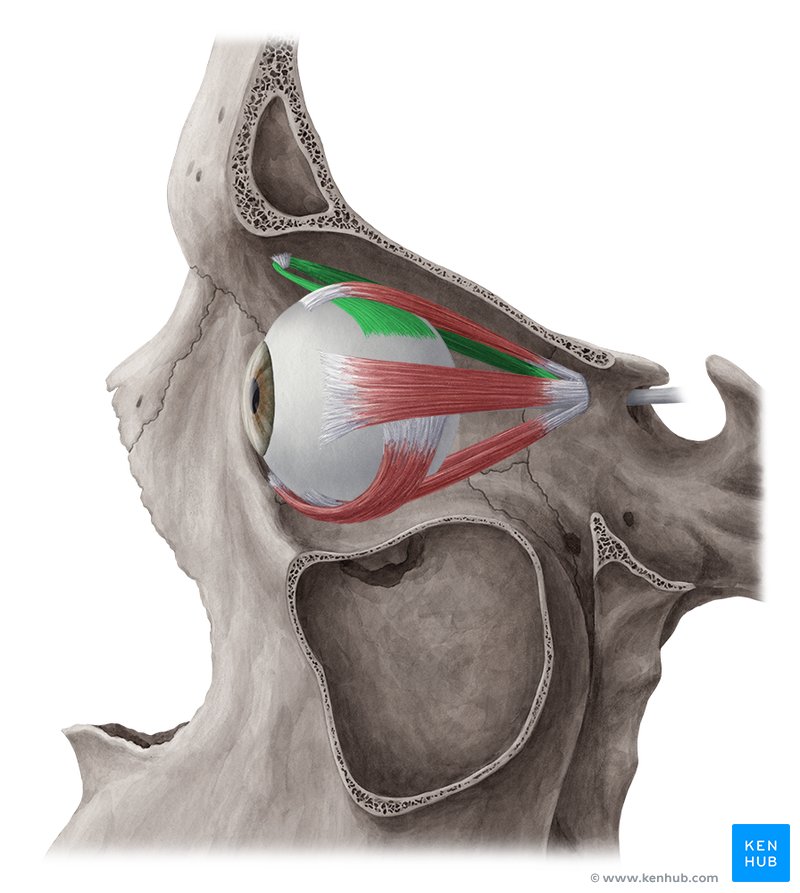 The extraocular muscles are a group of six extrinsic muscles of the eye. These are the superior rectus, lateral rectus, inferior rectus, medial rectus, superior oblique and inferior oblique muscles. Located within the orbit, they surround the eyeball completely, facilitating its movement in various directions.
Superior oblique is the longest muscle in this group, spanning from the body of sphenoid bone to the superolateral aspect of the eyeball. The function of the superior oblique muscle is to produce eye movements which direct the gaze inferolaterally by abducting, depressing and internally rotating the eye. 
Key facts about the superior oblique muscle

| | |
| --- | --- |
| Origin | Body of the sphenoid bone |
| Insertion | Superolateral aspect of eyeball (deep to rectus superior, via trochlea orbitae) |
| Action | Abducts, depresses, internally rotates eyeball |
| Innervation | Trochlear nerve (CN IV) |
| Blood supply | Ophthalmic artery |
In this article, we will discuss the anatomy and function of the superior oblique muscle.
Clinical relations
Impaired function of the superior oblique muscle is usually caused by lesions of the trochlear nerve somewhere on its long path from the brainstem to the orbit. Isolated injury of this nerve is fairly rare, it's usually combined with injuries of other cranial nerves. When isolated or combined palsy of extraocular muscles does occur, it is typically due to injury or pathological processes within the endocranium or the orbit.
The main symptom of superior oblique dysfunction is diplopia (double vision) that occurs when directing the gaze downward. Diplopia occurs because this muscle functions as a depressor of the eyeball, especially when the eye is in an abducted position. Patients usually compensate for this symptom by inclining the head anterolaterally towards the normal eye. When the superior oblique muscle is paralyzed, the action of inferior oblique is unopposed. For this reason, the movements of the two eyes are not synchronized when directing the gaze downward and medially.
Superior oblique muscle: want to learn more about it?
Our engaging videos, interactive quizzes, in-depth articles and HD atlas are here to get you top results faster.
What do you prefer to learn with?
"I would honestly say that Kenhub cut my study time in half." – Read more.
Kim Bengochea, Regis University, Denver

© Unless stated otherwise, all content, including illustrations are exclusive property of Kenhub GmbH, and are protected by German and international copyright laws. All rights reserved.