Occipitofrontalis muscle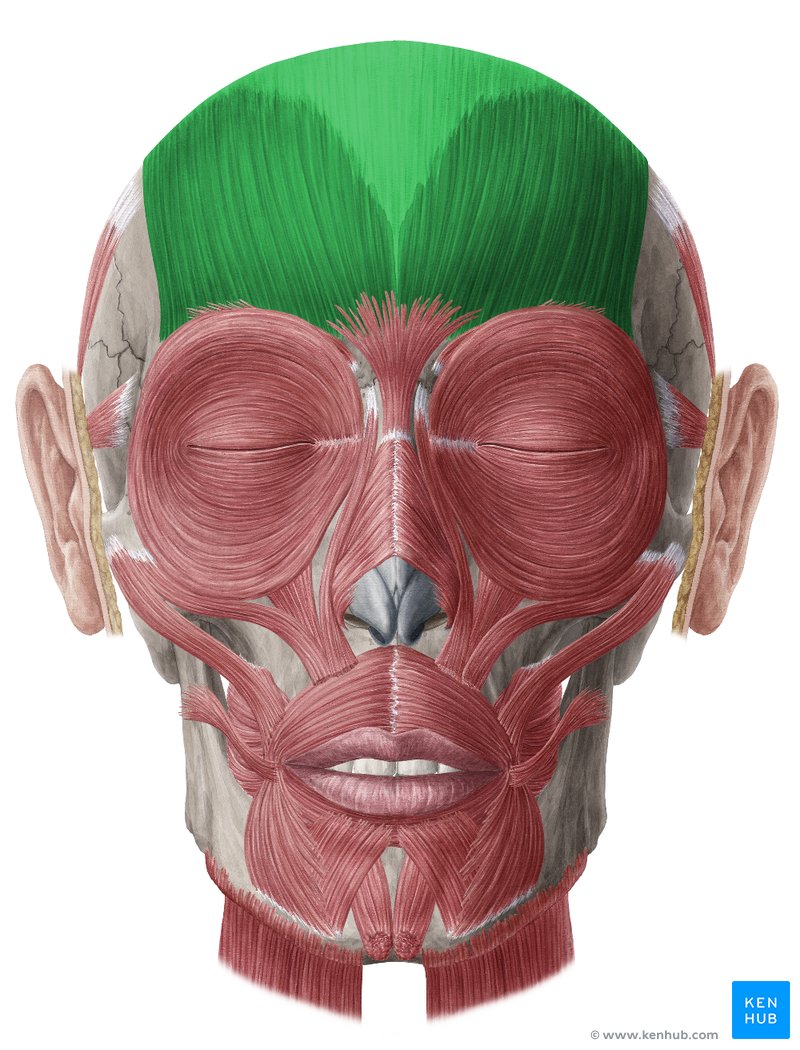 Occipitofrontalis is a long and wide muscle of the scalp, spanning from the eyebrows to the superior nuchal lines of occipital bones. Together with temporoparietalis, it comprises the epicranial group of the muscles of facial expression.
Occipitofrontalis consists of frontal and occipital bellies, each containing a pair of quadrangular muscle heads. The bellies are connected by a thick fibrous sheath called epicranial aponeurosis (galea aponeurotica) onto which both of them attach. The function of occipitofrontalis muscle is to elevate the eyebrows and wrinkle the forehead skin with its frontal part, and to retract the scalp with its occipital part.
Key facts about the occipitofrontalis muscle
Origin
Frontal belly (frontalis): Skin of eyebrow, muscles of forehead
Occipital belly (occipitalis): (Lateral 2/3 of) superior nuchal line
Insertion
Epicranial aponeurosis
Action
Frontal belly: Elevates eyebrows, wrinkles skin of forehead
Occipital belly: Retracts scalp
Innervation
Frontal belly: Temporal branches of facial nerve (CN VII)
Occipital belly: Posterior auricular nerve (branch of facial nerve (CN VII))
Blood supply
Superficial temporal, ophthalmic, posterior auricular and occipital arteries
This article will discuss the anatomy and function of occipitofrontalis muscle.
Occipitofrontalis muscle: want to learn more about it?
Our engaging videos, interactive quizzes, in-depth articles and HD atlas are here to get you top results faster.
What do you prefer to learn with?
"I would honestly say that Kenhub cut my study time in half." – Read more.
Kim Bengochea, Regis University, Denver

© Unless stated otherwise, all content, including illustrations are exclusive property of Kenhub GmbH, and are protected by German and international copyright laws. All rights reserved.