Dorsal interossei muscles of the foot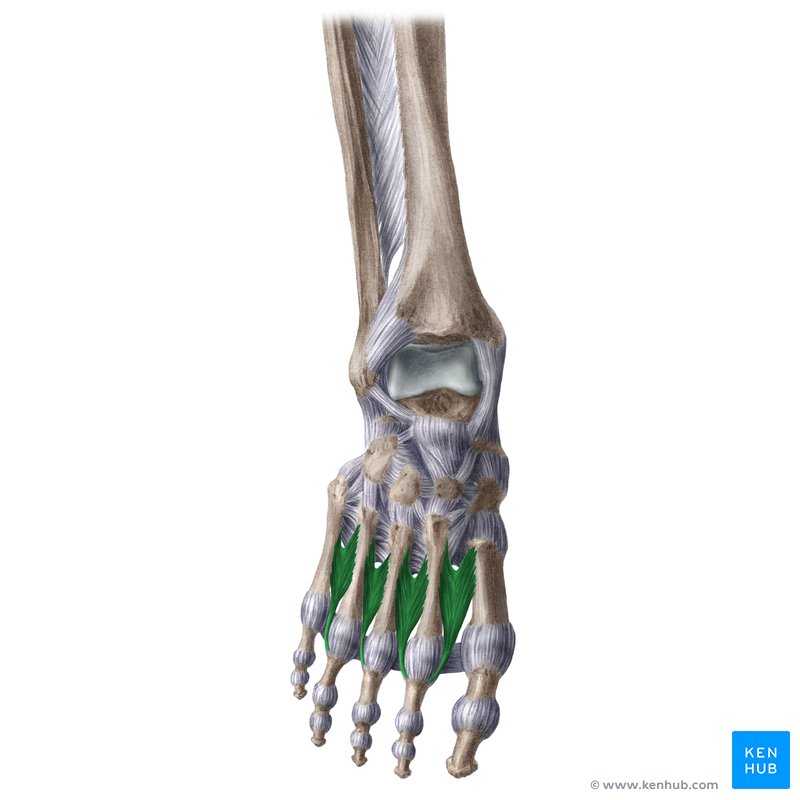 Dorsal interossei are the four feather-like muscles found in the central compartment of the sole of the foot. Concerning that the plantar foot muscles can be divided either into layers (superficial to deep) or into groups (medial to lateral), dorsal interossei can be grouped under;
Going from medial to lateral (in transverse plane) dorsal interossei are counted from one to four; the first being the most medial and the fourth being the most lateral. These muscles are known as bipennate muscles, which means that they consist of two muscle bellies that converge towards the centrally positioned tendon. The functions of dorsal interossei are the toe flexion and abduction on the metatarsophalangeal joints, and toe extension on the interphalangeal joints.
Key facts about the dorsal interossei muscles of the foot
Origin
Opposing sides of metatarsal bones 1-5
Insertion
1: Medial base of proximal phalanx of digit 
2-4: Lateral bases of proximal phalanges and extensor expansion of digits 2-4
Action
Metatarsophalangeal joints 2-4: toe flexion, toe abduction; Interphalangeal joints 2-4: toe extension
Innervation
Lateral plantar nerve (S2-S3)
Blood supply
Arcuate artery, dorsal and plantar metatarsal arteries
In this article, we will discuss the anatomy and function of the dorsal interossei muscles of the foot.
Dorsal interossei muscles of the foot: want to learn more about it?
Our engaging videos, interactive quizzes, in-depth articles and HD atlas are here to get you top results faster.
What do you prefer to learn with?
"I would honestly say that Kenhub cut my study time in half." – Read more.
Kim Bengochea, Regis University, Denver

© Unless stated otherwise, all content, including illustrations are exclusive property of Kenhub GmbH, and are protected by German and international copyright laws. All rights reserved.