Popliteus muscle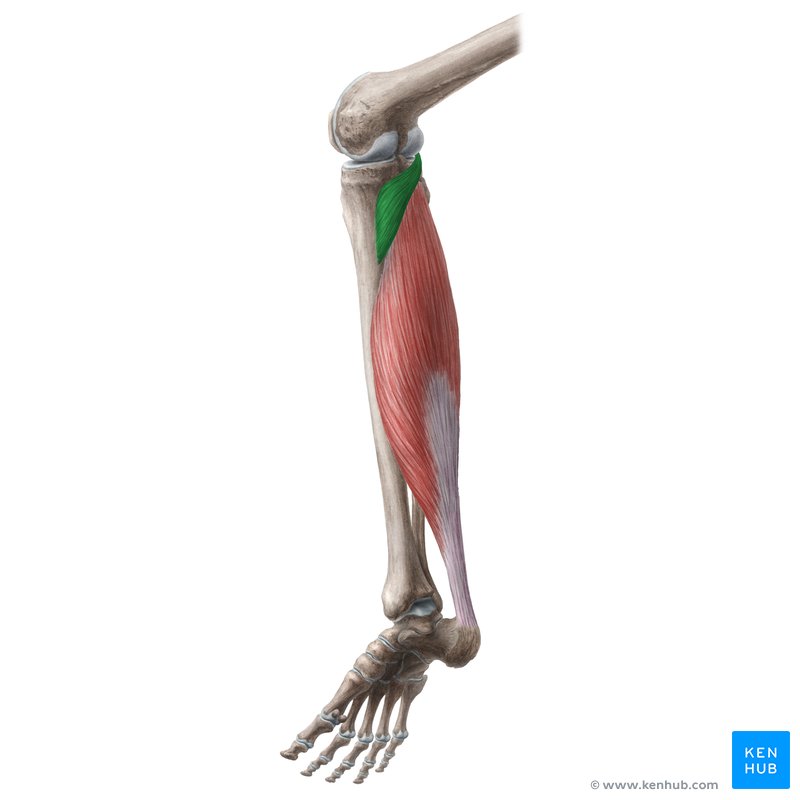 The popliteus muscle is a small muscle that forms the floor of the popliteal fossa. It belongs to the deep posterior leg muscles, along with tibialis posterior, flexor digitorum longus and flexor hallucis longus.
The popliteus muscle extends over the posterior aspect of the knee joint. It originates from the femur and the posterior horn of the lateral meniscus, and inserts on the proximal tibia.
The popliteus muscle plays an important role in the gait cycle by initiating the flexion of the fully extended ("locked") knee. Thus, the popliteus is referred to as the "key to unlock the knee". In addition, the popliteus muscle is the main stabilizer of the dorsal knee region.
 
Key facts about the popliteus muscle

| | |
| --- | --- |
| Origin | Lateral condyle of femur, posterior horn of lateral meniscus of knee joint |
| Insertion | Posterior surface of proximal tibia |
| Innervation | Tibial nerve (L4-S1) |
| Blood supply | Inferior medial and lateral genicular arteries (popliteal artery), posterior tibial recurrent artery, posterior tibial artery, nutrient artery of tibia |
| Function | Unlocks knee joint; Knee joint stabilization |
In this article, we will discuss the anatomy and function of the popliteus muscle.
Clinical aspects
The popliteus muscle may be injured in conjunction with a rupture of the anterior cruciate ligament or injuries involving the lateral meniscus. These types of injuries most often occur in sports due to a direct blow to the anteromedial aspect of the knee in the flexed position. In contrast, an isolated injury of the popliteus muscle is rather rare.
Clinically, the affected patients present with an unnatural lateral rotation of the tibia when flexing the knee. Other associated symptoms include muscle swelling, edema or bleeding.
 
Popliteus muscle: want to learn more about it?
Our engaging videos, interactive quizzes, in-depth articles and HD atlas are here to get you top results faster.
What do you prefer to learn with?
"I would honestly say that Kenhub cut my study time in half." – Read more.
Kim Bengochea, Regis University, Denver

© Unless stated otherwise, all content, including illustrations are exclusive property of Kenhub GmbH, and are protected by German and international copyright laws. All rights reserved.