Tensor veli palatini muscle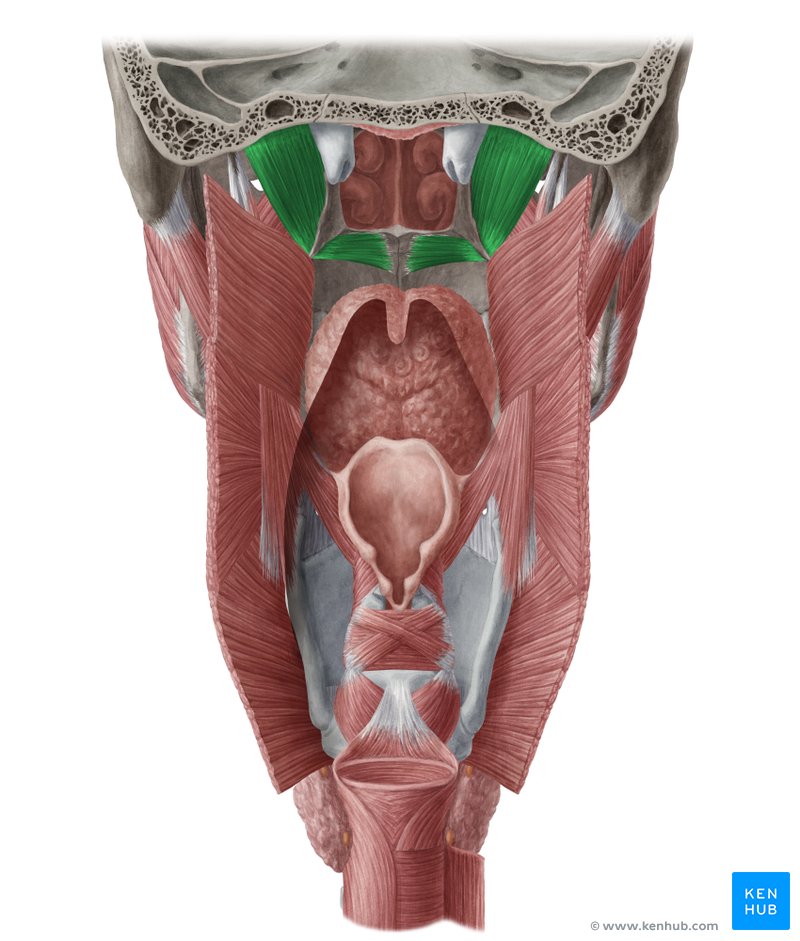 Tensor veli palatini is a slender, triangular muscle situated in the pterygoid fossa of skull. It belongs in the group of the soft palate and pharyngeal muscles, along with the levator veli palatini, palatoglossus, palatopharyngeus, musculus uvulae, salpingopharyngeus, stylopharyngeus and superior pharyngeal constrictor, middle pharyngeal constrictor and inferior pharyngeal constrictor.
The name of the muscle says a lot about its attachments and function. The word tensor comes from the Latin verb tendere meaning "to stretch". The words veli palatini are Latin for "veil or curtain of the palate". This etiology explains the function of this muscle which is the tension of the palatine aponeurosis of the soft palate and opening the pharyngeal opening of the auditory tube during swallowing or yawning.
This article will discuss the anatomy and functions of the tensor veli palatini muscle.
Key facts about the tensor veli palatini muscle

| | |
| --- | --- |
| Origin | Scaphoid fossa of pterygoid process, spine of sphenoid bone, sembranous wall of auditory tube |
| Insertion | Palatine aponeurosis |
| Function | Tenses palatine aponeurosis; Opens pharyngeal opening of auditory tube (during swallowing) |
| Innervation | Nerve to medial pterygoid (of mandibular nerve (CN V3)) |
| Blood supply | Greater palatine artery (maxillary artery), ascending palatine artery (facial artery) |
Tensor veli palatini muscle: want to learn more about it?
Our engaging videos, interactive quizzes, in-depth articles and HD atlas are here to get you top results faster.
What do you prefer to learn with?
"I would honestly say that Kenhub cut my study time in half." – Read more.
Kim Bengochea, Regis University, Denver

© Unless stated otherwise, all content, including illustrations are exclusive property of Kenhub GmbH, and are protected by German and international copyright laws. All rights reserved.