Eye anatomy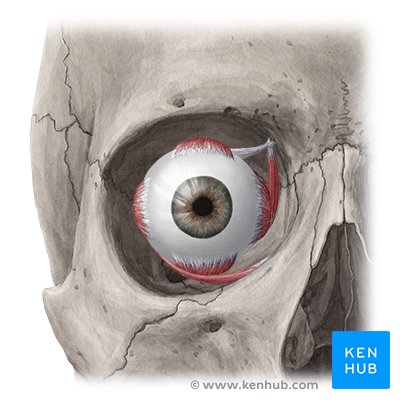 The eyes are essential for our daily experience, since about 70% of information we gather is by seeing. They are placed within the orbits, two cavities in the upper face, in the anterior surface of the head.
Besides the eyes, the orbits host several structures that support the eyeballs, including muscles, vessels, nerves and a gland. The orbits are specifically designed to allow these neurovascular structures to pass through its walls, from the cranium on their way to the face.
This page will discuss the anatomy of the eye and orbit.
Key facts about the orbit and eyes
Orbit definition
Bony cavity within the skull that houses the eye and its associated structures (muscles of the eye, eyelid, periorbital fat, lacrimal apparatus)
Bones of the orbit
Maxilla, zygomatic bone, frontal bone, ethmoid bone, lacrimal bone, sphenoid bone and palatine bone
Structure of the eye
Cornea, anterior chamber, lens, vitreous chamber and retina
Muscles of the eye
Extrinsic: Superior rectus, inferior rectus, medial rectus, lateral rectus, superior oblique, inferior oblique, levator palpebrae superioris
Intrinsic: Sphincter pupillae, dilator pupillae, ciliaris
Innervation of the eye
Vision: Optic nerve (CN II)
Muscles: Oculomotor (CN III), trochlear (CN IV) and abducens (CN VI) nerves
Blood supply of the eye
Ophthalmic artery, vorticose veins
Eye anatomy: want to learn more about it?
Our engaging videos, interactive quizzes, in-depth articles and HD atlas are here to get you top results faster.
What do you prefer to learn with?
"I would honestly say that Kenhub cut my study time in half." – Read more.
Kim Bengochea, Regis University, Denver

© Unless stated otherwise, all content, including illustrations are exclusive property of Kenhub GmbH, and are protected by German and international copyright laws. All rights reserved.