How to learn anatomy with mind maps
"Many think of memory as rote learning, a linear stuffing of the brain with facts, where understanding is irrelevant. When you teach it properly, with imagination and association, understanding becomes a part of it." - Tony Buzan, inventor of mind mapping
If you are like 99% of the students, you are probably learning by rote. In other words, you become a robot - you mechanically keep repeating the information that needs to be learned. Studying this way is extremely easy, especially with a subject like anatomy, which almost has rote learning sprayed across it. More than likely, understanding the subject is quite easy for you.
The main challenge is getting all the long and confusing terms into your head. What seems to be the right answer? To open your anatomy book, start reading the page, take some linear notes, revise a bit and hope for the best. It is definitely not the worst strategy, but you'll shed a lot of blood, sweat, and tears…
If you want to keep your sanity while learning anatomy, you need to be the 'odd one out' and join the remaining 1% of students. Instead of switching off your brain and transcribing the author's exact words and concepts, process the information and organise it in a way that makes sense to you. In other words, mind map the information and personalize your learning in a way that you probably never thought possible.
This article will explain mind maps, how to create them and their power in helping you manage all that voluminous anatomical knowledge. Creative artists and geniuses like Leonardo da Vinci, Galileo, and Albert Einstein used them constantly to elaborate their ideas, so they will certainly help you as well.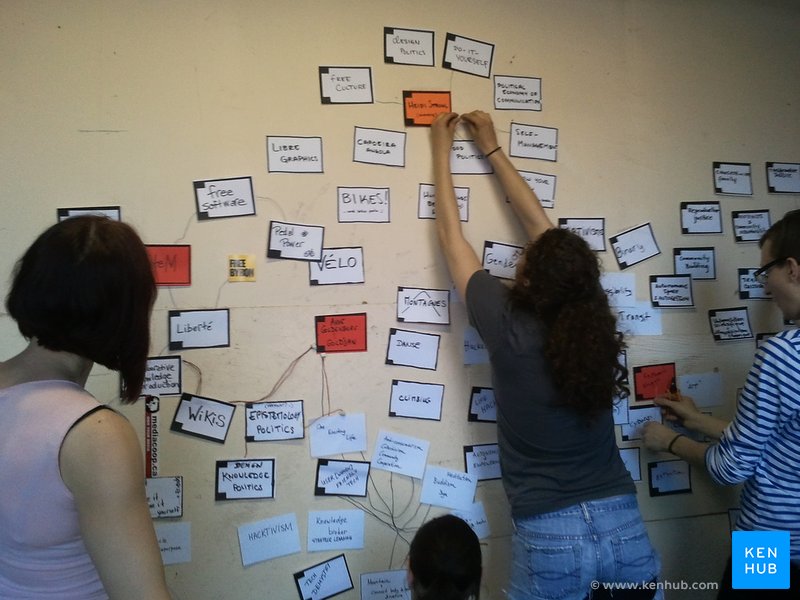 Highlights
A mind map is an organizational thinking tool - a Swiss army knife of the brain. Exactly as the name implies, it is a map reflecting what is present inside your brain.
The principle behind mind maps is radiant thinking. In simple terms, as you think of an idea, new and old information is constantly 'hooked' onto an already existing one, building a map. Knowledge is organised like a spider web inside your mind, allowing you to link seemingly unrelated topics together.
Mind maps can help you in many ways; they can show you the big picture, help you create associations, focus your attention, filter the information and allow you to exploit active recall.
Creating a mind map is a very intuitive process. Simply grab some colours and start branching out from a central idea by drawing pictures and using key words.
Mind maps have some potential drawbacks; you do need time, space and some genuine artistic skills to use this study strategy.
© Unless stated otherwise, all content, including illustrations are exclusive property of Kenhub GmbH, and are protected by German and international copyright laws. All rights reserved.