Diencephalon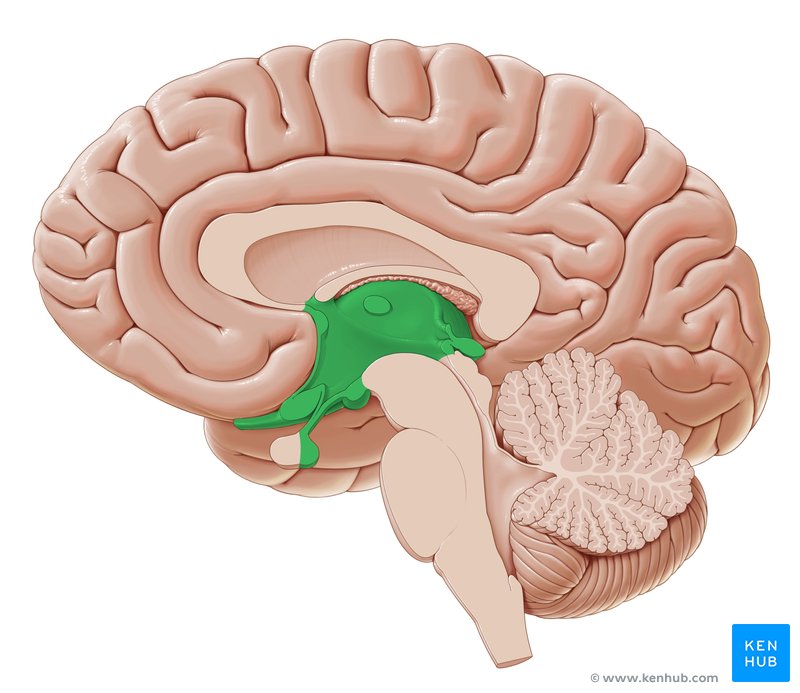 The human brain can be subdivided by many classification systems. One particular nomenclature that refers to the duality of the brain is the diencephalon. It is the caudal part of the forebrain (prosencephalon) that occupies the central region of the brain. The diencephalon is comprised of the:
Epithalamus
Subthalamus
Metathalamus
In the following article, we will explore the anatomy of different parts of the diencephalon as well as their function.
Key facts about the diencephalon
Parts
Epithalamus
Thalamus
Subthalamus
Metathalamus
Hypothalamus
Blood supply
Posterior cerebral artery
Posterior communicating artery

Embryology
At 5th week of gestation derived from prosencephalon
Function
Primary relay and processing center for sensory information and autonomic control:
- via connections limbic system - seat of memory and emotion 
- via connections with basal ganglia - motor coordination
- via connections with primary sensory areas, such as auditory or visual

Clinical significance
Diencephalic (Russell's) syndrome
It should be noted that a lesion (vascular or neoplastic) of any part of the diencephalon may result in a deficit in the function associated with that component. For example, an insult to the supraoptic nucleus of the hypothalamus can impair the production and subsequent release of vasopressin.
Diencephalic (Russell's) syndrome is a rare disorder characterized by:
severe emaciation with normal caloric intake
euphoria
locomotor hyperactivity
non-anaemic pallor
hypotension
hypoglycaemia
Neoplastic insults of the optic and hypothalamic region are the primary cause of this disorder. The syndrome is one of the major causes of failure to thrive among paediatric patients. Fortunately, it seldom prohibits the patient from achieving their developmental milestones.
Panhypopituitarism syndrome
Global deficiency of pituitary hormones is clinically classified as a panhypopituitarism syndrome. This may result from either local impairment of the gland or dysregulation of the hypothalamus. Iatrogenic insults to the pituitary gland (radiation therapy), postpartum pituitary necrosis and traumatic brain injury can also result in hypopituitarism.
Patient presentation is dependent on which hormone(s) is (are) predominantly deficient. For example, a deficiency in growth hormone will result in failure to thrive in children; while low levels of thyroid stimulating hormone would cause hypothyroidism.
Diencephalon: want to learn more about it?
Our engaging videos, interactive quizzes, in-depth articles and HD atlas are here to get you top results faster.
What do you prefer to learn with?
"I would honestly say that Kenhub cut my study time in half." – Read more.
Kim Bengochea, Regis University, Denver

© Unless stated otherwise, all content, including illustrations are exclusive property of Kenhub GmbH, and are protected by German and international copyright laws. All rights reserved.

Bored by anatomy?

Try this

➞