Superior gemellus muscle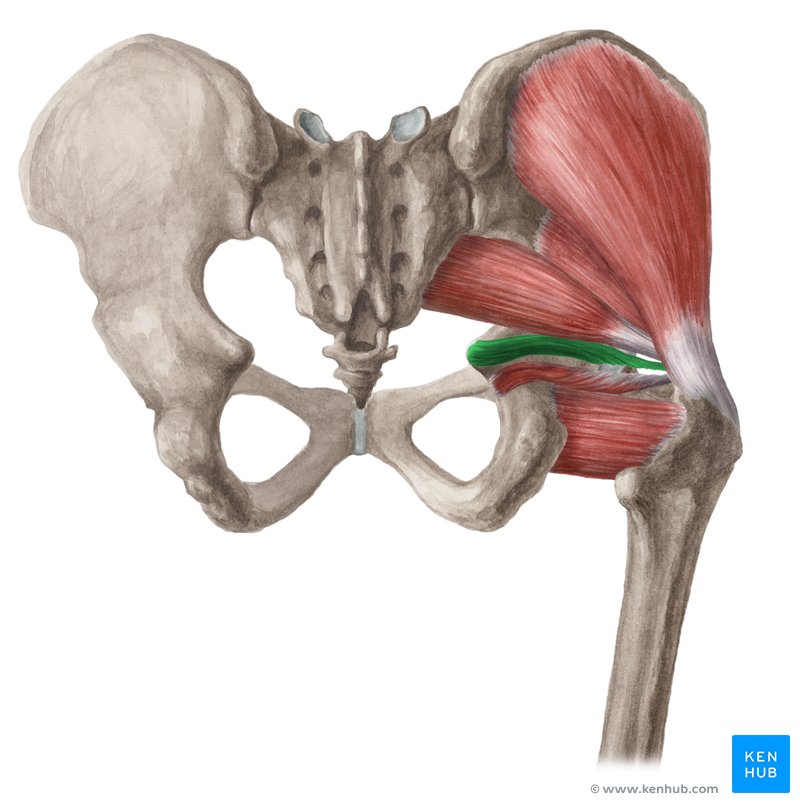 Superior gemellus is a small muscle located deep in the posterior pelvis. Sitting underneath larger muscles of the hip and thigh, specifically to gluteus maximus, it belongs to the group of deep gluteal muscles. The other muscles of this deep gluteal group are; piriformis, obturator internus, obturator externus, gemellus inferior and quadratus femoris. These muscles share the common function of stabilising the hip joint and externally rotating and abducting the thigh. 
Superior gemellus muscle joins together with inferior gemellus and obturator internus to comprise the triceps coxae. Superior and inferior gemelli are similar in appearance. This is why the gemelli muscles hold these specific names, as gemellus in Latin translates to "the twin" in English.
This article will discuss the anatomy and function of the superior gemellus muscle.
Key facts about the superior gemellus muscle

| | |
| --- | --- |
| Origin | Ischial spine |
| Insertion | Medial surface of greater trochanter of femur (via tendon of obturator internus) |
| Action | Hip joint: Thigh external rotation, thigh abduction (from flexed hip); stabilizes head of femur in acetabulum |
| Innervation | Nerve to obturator internus (L5-S1) |
| Blood supply | Internal pudendal artery, inferior gluteal artery (and occasionally superior gluteal artery) |
Superior gemellus muscle: want to learn more about it?
Our engaging videos, interactive quizzes, in-depth articles and HD atlas are here to get you top results faster.
What do you prefer to learn with?
"I would honestly say that Kenhub cut my study time in half." – Read more.
Kim Bengochea, Regis University, Denver

© Unless stated otherwise, all content, including illustrations are exclusive property of Kenhub GmbH, and are protected by German and international copyright laws. All rights reserved.