Quadratus femoris muscle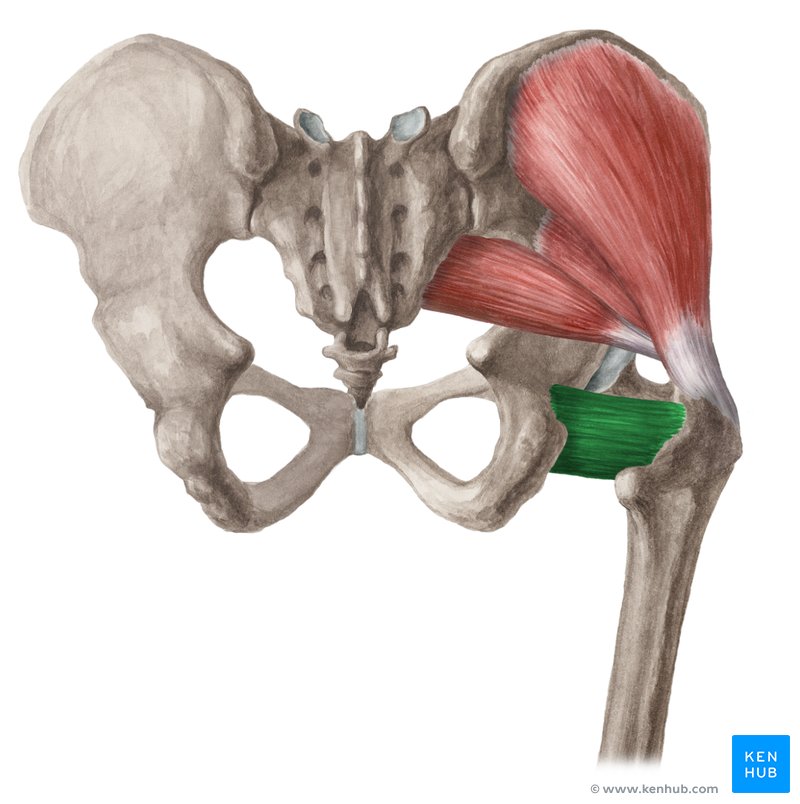 Quadratus femoris is a paired, rectangular-shaped muscle of the gluteal region. It is part of the group of muscles known as the lateral, or external, rotators of the thigh.
Even though it is a small muscle, the quadratus femoris has many important functions; it stabilizes the hip joint by keeping the head of the femur in place and produces external rotation of the thigh in the hip joint when the lower limb is in the anatomical position. In certain positions quadratus femoris can also assist in the movements of abduction and adduction.
In this article, we will discuss the anatomy and function of the quadratus femoris muscle.
Key facts about the quadratus femoris muscle

| | |
| --- | --- |
| Origin | Ischial tuberosity |
| Insertion | Intertrochanteric crest of femur |
| Action | Hip joint: thigh external rotation; stabilizes head of femur in acetabulum  |
| Innervation | Nerve to quadratus femoris (L4-S1) |
| Blood supply | Inferior gluteal artery |
Clinical relations 
Groin pain
Groin pain is a pretty common and disabling condition whose cause is often difficult to diagnose without medical imaging, due to there being a number of structures with synergistic functions. One known cause of severe pain in this region is tendinitis of quadratus femoris muscle. Besides physical examination, the diagnosis process often requires magnetic resonance imaging (MRI), which is the reason why accurate diagnosis and treatment of this condition is usually delayed.
Quadratus femoris muscle: want to learn more about it?
Our engaging videos, interactive quizzes, in-depth articles and HD atlas are here to get you top results faster.
What do you prefer to learn with?
"I would honestly say that Kenhub cut my study time in half." – Read more.
Kim Bengochea, Regis University, Denver

© Unless stated otherwise, all content, including illustrations are exclusive property of Kenhub GmbH, and are protected by German and international copyright laws. All rights reserved.