Adductor brevis muscle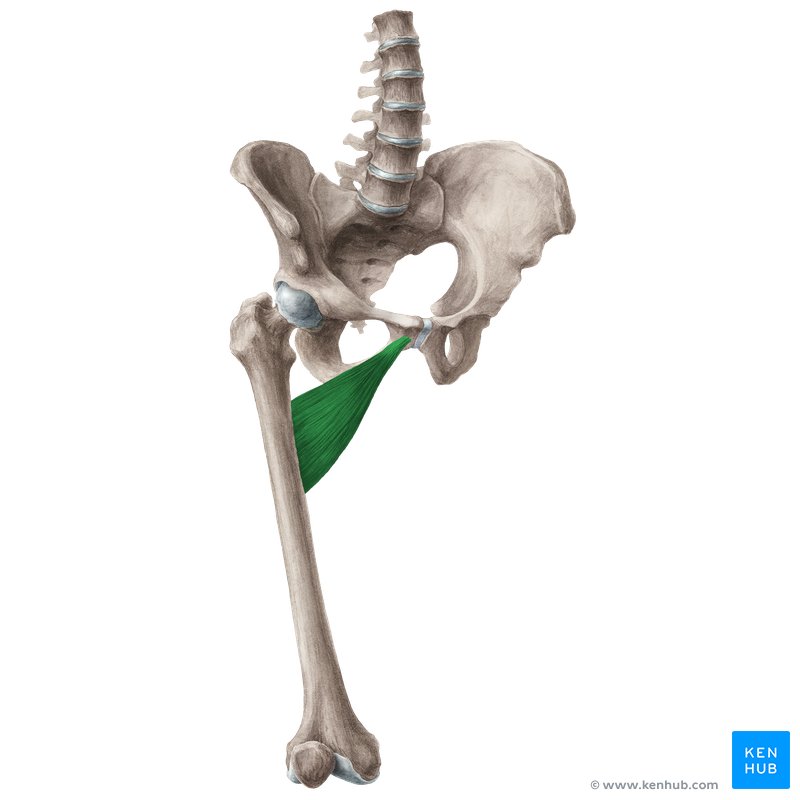 Adductor brevis is a flat, triangular muscle that is found in the inner thigh. This muscle runs from the pubis to the medial aspect of the femur. Together with adductor longus, adductor magnus, gracilis and pectineus muscles, it comprises a group of muscles known as the adductors of the thigh. 
These inner thigh muscles produce movements of the hip joint; primarily thigh adduction, but they also participate in flexion, internal and external rotation and stabilization of the pelvis while standing or walking. Adductor brevis, being one of the shortest muscles from this group, is a weak adductor of the thigh.
In this article, we will discuss the anatomy and function of adductor brevis muscle. 
Key facts about the adductor brevis muscle

| | |
| --- | --- |
| Origin | Anterior body of pubis, inferior pubic ramus |
| Insertion | Linea aspera of femur (medial lip) |
| Action | Hip joint: thigh flexion, thigh adduction, thigh external rotation; pelvis stabilization |
| Innervation | Obturator nerve (L2-L4) |
| Blood supply | Arteria profunda femoris |
Adductor brevis muscle: want to learn more about it?
Our engaging videos, interactive quizzes, in-depth articles and HD atlas are here to get you top results faster.
What do you prefer to learn with?
"I would honestly say that Kenhub cut my study time in half." – Read more.
Kim Bengochea, Regis University, Denver

© Unless stated otherwise, all content, including illustrations are exclusive property of Kenhub GmbH, and are protected by German and international copyright laws. All rights reserved.