Quadratus lumborum muscle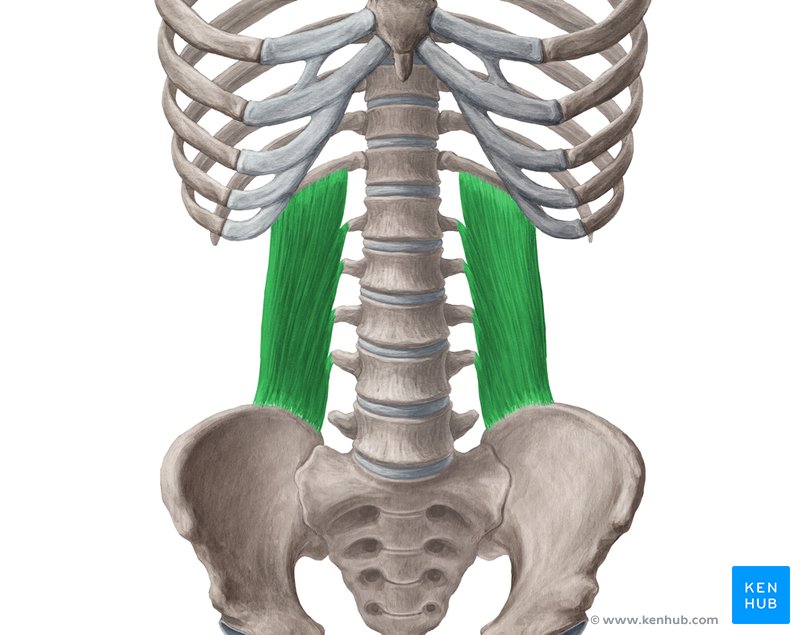 The quadratus lumborum muscle is a muscle of the posterior abdominal wall lying deep inside the abdomen and dorsal to the iliopsoas. It is the deepest muscle of the posterior abdominal wall, and it is often mistakenly referred to as one of the muscles of the back. Its shape is irregular, but is generally quadriangular, which is the reason why it is described as 'quadratus' in latin.
Besides the spine, it also attaches to the twelwth rib, which makes it very important for stabilization of both vertebral column and the rib during various movements of the spine. In order to palpate the muscle one needs place the fingers above the posterior iliac crest at the level of the hip.
This article will discuss the anatomy and clinical importance of the quadratus lumborum muscle.
Key facts about the quadratus lumborum muscle
Origin
Iliac crest, iliolumbar ligament
Insertion
Inferior border of rib 12, transverse processes of vertebrae L1-L4
Innervation
Subcostal nerve (T12), anterior rami of spinal nerves L1-L4

Blood supply
Lumbar, median sacral, iliolumbar and subcostal arteries
Function
Bilateral contraction - fixes Ribs 12 during inspiration, trunk extension
Unilateral contraction - lateral flexion of trunk (ipsilateral)

Clinical aspects
Overuse and strain of the quadratus lumborum are one of the major causes for chronic pain in the lower back. One typical cause is the habit of sitting at the desk using a reclined seat, which releases the intrinsic back muscles and weakens them in the long term. The weak back muscles must now be compensated by the quadratus lumborum leading to painful tension and stiffening of the muscle.
Other causes can be direct damage or any type of imbalance of the pelvis or spine which forces the quadratus lumborum to stabilize them. An example of that type of imbalance is unequal leg lengths.
Quadratus lumborum muscle: want to learn more about it?
Our engaging videos, interactive quizzes, in-depth articles and HD atlas are here to get you top results faster.
What do you prefer to learn with?
"I would honestly say that Kenhub cut my study time in half." – Read more.
Kim Bengochea, Regis University, Denver

© Unless stated otherwise, all content, including illustrations are exclusive property of Kenhub GmbH, and are protected by German and international copyright laws. All rights reserved.