Supracolic compartment
It is extremely important for a clinician to have a solid understanding of the anatomical spaces of the human body; at least those within their specialty. Particularly in the abdomen and pelvis, knowledge of the anatomical spaces (and how they communicate with each other and adjacent structures) is particularly useful in recognizing certain pathologies on clinical examination of a patient. This article is aimed at identifying both patent and potential anatomical spaces within the supracolic compartment of the abdominal region. The borders, location and contents of these spaces will be described in clinically relevant points related to some of the spaces.
Supracolic compartment of the abdominal cavity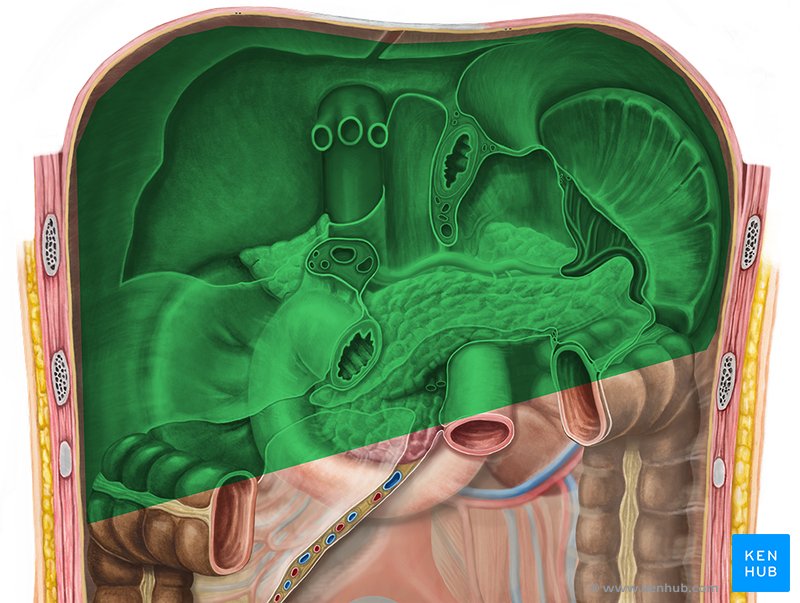 Clinical significance
When surgical intervention is necessary for organs present in the lesser omental sac, they can be accessed through the gastrocolic part of the greater omentum. Additional access routes to the lesser sac include the lesser omentum or transverse mesocolon.
Both the right and left subphrenic spaces have been known to be sites of fluid accumulation during pathological or postoperative processes. After a right abdominal infection, it is not uncommon for fluid to accumulate in the right subphrenic space. The inferior boundary formed by the lienogastric, lienorenal and phrenicocolic ligaments on the left hand makes it less likely for fluid to accumulate in the left subphrenic space than in the right subphrenic space following pelvic or lower abdominal surgery. However, the left subphrenic space is more likely to have fluid build-up following upper abdominal surgery when compared with the right subphrenic space.
Supracolic compartment: want to learn more about it?
Our engaging videos, interactive quizzes, in-depth articles and HD atlas are here to get you top results faster.
What do you prefer to learn with?
"I would honestly say that Kenhub cut my study time in half." – Read more.
Kim Bengochea, Regis University, Denver

© Unless stated otherwise, all content, including illustrations are exclusive property of Kenhub GmbH, and are protected by German and international copyright laws. All rights reserved.