Overview of the cerebellum and the brainstem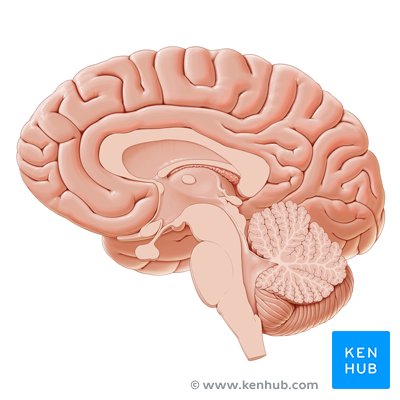 The cerebellum and brainstem are a testament to the fact that good things do come in small packages, so this article is an overview of their anatomy. Occupying only a fraction of the volume of the cerebrum, these structures are responsible for simplifying every second of your life and keeping you alive. Thanks to them, you can subconsciously and automatically walk, perform smooth actions, maintain your balance, breathe, regulate your blood pressure, together with many other functions. Also, do you know the main hero keeping a patient alive during a 'vegetative state' or a coma? It's solely the brainstem, as the cerebrum is dysfunctional.
It's important to have a clear understanding of the cerebellum and brainstem as they are crucial anatomical structures. In this article we'll take a look at both their internal and external components. 
Key facts about the cerebellum and brainstem
Cerebellum
Definition: A part of the central nervous system found posteriorly to the brainstem that is in charge for motor learning, coordination and precision of motor functions.
Parts: two hemispheres (left and right), three lobes (anterior, posterior, and flocculonodular)
Blood supply: superior cerebellar, anterior inferior cerebellar, and posterior inferior cerebellar arteries

Brainstem
Definition: The most caudal part of the brain that connects the subcortical structures and spinal cord. It controls vital functions (e.g. sleep-wake cycle, consciousness, respiratory and heart rate).
Parts: medulla oblongata, pons, and midbrain
Blood supply: anterior and posterior inferior cerebellar arteries, anterior spinal artery, pontine branches of basilar artery, perforating arteries

Overview of the cerebellum and the brainstem: want to learn more about it?
Our engaging videos, interactive quizzes, in-depth articles and HD atlas are here to get you top results faster.
What do you prefer to learn with?
"I would honestly say that Kenhub cut my study time in half." – Read more.
Kim Bengochea, Regis University, Denver

© Unless stated otherwise, all content, including illustrations are exclusive property of Kenhub GmbH, and are protected by German and international copyright laws. All rights reserved.