Circulatory (cardiovascular) system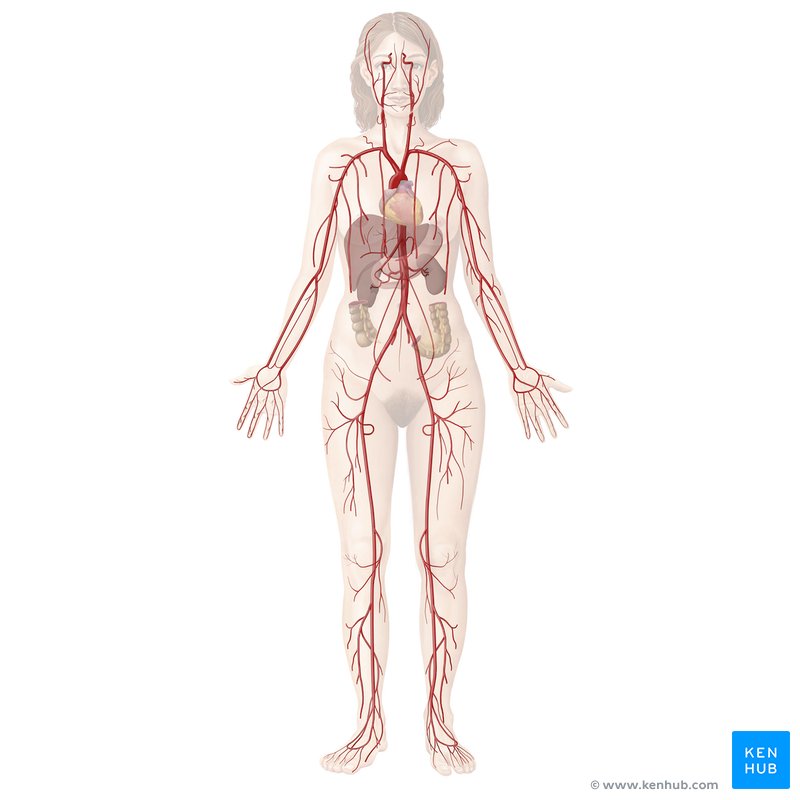 The circulatory system, also called cardiovascular system,  is a vital organ system that delivers essential substances to all cells for basic functions to occur. Also commonly known as the cardiovascular system, is a network composed of the heart as a centralised pump, blood vessels that distribute blood throughout the body, and the blood itself, for transportation of different substances.
The circulatory system is divided into two separate loops: The shorter pulmonary circuit that exchanges blood between the heart and the lungs for oxygenation; and the longer systemic circuit that distributes blood throughout all other systems and tissues of the body. Both of these circuits begin and end in the heart.
Key facts
Functions
Transport of gases, nutrients, electrolytes, wastes, hormones
Heart
Layers - myocardium, endocardium, epicardium
Chambers - left and right atria, left and right ventricles
Blood vessels - arteries (oxygenated blood), veins (deoxygenated blood)
Blood vessels
Arteries, veins, capillaries
Hierarchy: Heart -> arteries -> arterioles -> capillaries [gas exchange - oxygenated blood becomes deoxygenated] -> venules -> veins -> heart
Circulations
Pulmonary - superior and inferior vena cava (with deoxygenated blood) -> right atrium -> right ventricle -> right and left pulmonary artery -> capillaries of each lung (oxygenation of the blood) -> pulmonary veins -> left atrium -> systemic circulation 
Systemic - left atrium -> left ventricle -> aorta and all of its branches -> capillaries -> veins -> superior and inferior vena cava -> pulmonary circulation 
Coronary - ascending aorta -> right coronary artery -> right marginal branch, posterior interventricular artery, left coronary artery -> anterior interventricular branch (anastomoses with the posterior branch), circumflex artery
Blood
Plasma with cellular components:
Erythrocytes (red blood cells) - contain hemoglobine and carry oxygen throughout the blood vessels
Leukocytes (white blood cells) - immune system cells
Thrombocytes (platelets) - coagulation cells
Clinical relations
Arteriosclerosis, cerebrovascular disease, peripheral artery disease, aneurysm, varices, arrhytmia, heart failure
This article will explain everything that is important about the circulatory system, as well as the clinical relations to it.
Clinical notes
Diseases affecting the cardiovascular system are collectively referred to as cardiovascular diseases. Vascular diseases relate to the blood vessels. Cardiac diseases affect the heart itself. Hematologic diseases are those of the blood. Diseases of the cardiovascular system can be congenital (present since birth) or acquired (related to age, diet, lifestyle and predisposition). 
Vascular diseases
Arteriosclerosis is the thickening of the walls of arteries, reducing function. Atherosclerosis is a specific form of arteriosclerosis, where plaque builds up on the endothelium of arteries, causing them to narrow and reducing oxygen delivery to the tissues. 
Coronary artery disease occurs in the arteries supplying the heart itself, with narrowing of the coronary arteries causing reduced oxygen delivery to the heart tissue. This can result in a condition called angina, which is essentially spasming of the coronary arteries due to reduced blood flow. Myocardial Infarction (heart attack) is also caused by the narrowing of the coronary arteries due to atherosclerosis. A myocardial infarction occurs when the artery becomes completely occluded due to dislodged plaque or development of a thrombus (blood clot). 
Cerebrovascular disease affects the arteries supplying the brain. One of the most common presentations is ischemic stroke, which is also caused by atherosclerosis. Ischemic stroke results in a reduced blood flow to brain regions, leading to impaired brain function. It can be caused by the development of a thrombus or the passing of an embolus (blockage causing substance) from another region of the body to the cerebral circulation.
Peripheral artery disease is reduced blood flow to the limbs due to atherosclerosis. 
An aneurysm is a localised weakening in the wall of a blood vessel. It can result in bulging of the vessel wall. Thrombus formation and embolisation can also occur. Aneurysms can rupture, leading to significant blood loss depending on where they occur. Particularly lethal sites of aneurysm formation are in the abdominal aorta, the circle of Willis in cerebral circulation, and in the renal vessels. 
Varices occur where blood vessels become enlarged and twisted. They can occur at multiple sites in the body. One of the most prominent sites of varices is in the veins of legs, termed varicose veins. Other common sites of varices are at sites of portocaval anastamoses, such as esophageal varices, umbilical varices (caput medusae) and anorectal varices (hemorrhoids or piles).
Cardiac diseases
Cardiovascular diseases can also solely affect the heart. Cardiomyopathy is a collection of diseases that affects the heart muscle. The muscle can become enlarged (hypertrophic) and rigid, causing decreased heart function, arrhythmias (irregular heart rate), and sometimes even heart failure.
The valves of the heart can also be affected by disease. There are two main types: valve incompetence, in which the valve is unable to function sufficiently; and valve stenosis, where the orifice between the valve narrows as the valve is unable to open fully. Mitral valve disease affects the mitral valve that lies between the left atrium and ventricle. It is normally caused by a combination of valve incompetence and stenosis. Aortic valve disease affects the aortic valve, and is largely caused by stenosis of the valve with contribution from regurgitation, which is backflow through the valve. 
Inflammation of the heart tissues can also occur. It includes inflammation of the inner endocardium (endocarditis) and the middle muscular layer (myocarditis). Pericarditis is the inflammation of the pericardium , which comprises the outer layer of the heart itself and the pericardial sac which encloses the heart in the thoracic cavity.
Congenital heart diseases
Congenital heart diseases are those which have been present since birth. They are largely present as left to right shunts, where blood is shunted from areas of higher pressure to areas of lower pressure. Oxygenated blood is passed back to the right side of the heart and mixed with deoxygenated blood. Such shunts can go unnoticed in a number of patients, while others may require surgical intervention.
An atrial septal defect occurs when blood is shunted from the left atrium (higher pressure) to the right atrium (lower pressure) through an opening in the interatrial septum. This opening usually results from the failure of an embryological shunt, the foramen ovale, to close after birth. This defect is specifically referred to as a patent foramen ovale. A ventriculoseptal defect is when an opening in the interventricular septum allows blood to pass from the left ventricle into the right ventricle.
Another embryological shunt exists near the heart in the embryo, shunting blood from the pulmonary trunk into the aorta. This is called the ductus arteriosus, and pressure changes after birth usually force this opening to shut. A patent ductus arteriosus occurs when the ductus does not close after birth, and allows blood to flow from the higher pressure arch of the aorta into the lower pressure pulmonary trunk.
Blood disorders
These are disorders affecting the components of the blood. They can largely be divided depending on which of the blood cells they affect. 
Anemia
Anemia is a blood disorder affecting red blood cells. Patients suffering with anemia have a decreased oxygen carrying capacity due to a decrease in the number of red blood cells, or a reduced amount of haemoglobin in the blood. There are multiple different types of anemia, some of which are the following:
Iron deficient anemia is the most common form of anemia. It is the result of insufficient intake of iron, an increase in the amount of iron lost, or inadequate absorption of iron. Women are more likely to be affected by this from of anemia due to menstruation and the higher demands of iron placed on their body during pregnancy.
Megaloblastic anemia is caused by a decrease in the intake or absorption of vitamin B12 or folic acid. This results in the production of large, insufficient red blood cells.
Pernicious anemia is the result of insufficient hemopoiesis, or production  of red blood cells by bone marrow.
Hemorrhagic anemia is caused by loss of red blood cells through excessive bleeding.
Aplastic anemia occurs due to the destruction of red bone marrow, which leads to a reduction in the number of red blood cells being produced.
Sickle cell anemia is a condition in which the shape of the red blood cells is altered into a sickle shape. These cells cannot easily pass through capillaries and tend to clump together, blocking the blood vessel. They are also prone to rupturing, with their rapid break down resulting in a reduced oxygen carrying capacity.
Leukemia
Leukemia refers to a group of cancers affecting the red bone marrow . Theses cancers cause abnormal white blood cells to multiply uncontrollably, which interferes with normal red blood cell, white blood cell and platelet production. This results in a decrease in oxygen carrying capacity, susceptibility to infection, and abnormal clotting. Leukemia spreads easily from the bone marrow to the lymph nodes, liver and spleen, causing them to enlarge. Symptoms are caused mainly by disruption to the production of other blood cells, including fatigue, pale skin and cold intolerance that is usually observed in anemia.
There are two methods of classification of leukemia. The first is based on the presentation of the disease: Acute leukemia refers to those that have developed rapidly; Chronic leukemia develops over an extended period of time. The second classification is based on the type of cells affected: Lymphoblastic affects lymphoid stem cells; Myelogenous affects myeloid stem cells. Thus, there are four types of leukemia:
Acute lymphoblastic leukemia is the most common form of the disease occurring in children, though it can also affect adults as well.
Acute myelogenous leukemia is found in both adults and children.
Chronic lymphoblastic leukemia is usually present in adults, especially those over the age of 55.
Chronic myelogenous leukemia usually affects adults.
Treatment of leukemia involves methods such as chemotherapy, radiation therapy, stem cell transplantation and blood transfusion among others.
Thrombocytopenia
This is a disorder of the thrombocytes, or platelets. It results in a low number of platelets in the blood. Patients with this disorder are prone to excessive bleeding and may experience frequent nose bleeds or bleeding gums, as well as excessive bruising. 
Hemophilia
This is an inherited blood disorder that causes spontaneous bleeding or bleeding where only minor trauma has occurred. It is caused by deficiencies of different clotting factors and can vary significantly in severity.
Circulatory (cardiovascular) system: want to learn more about it?
Our engaging videos, interactive quizzes, in-depth articles and HD atlas are here to get you top results faster.
What do you prefer to learn with?
"I would honestly say that Kenhub cut my study time in half." – Read more.
Kim Bengochea, Regis University, Denver

© Unless stated otherwise, all content, including illustrations are exclusive property of Kenhub GmbH, and are protected by German and international copyright laws. All rights reserved.