Major arteries, veins and nerves of the body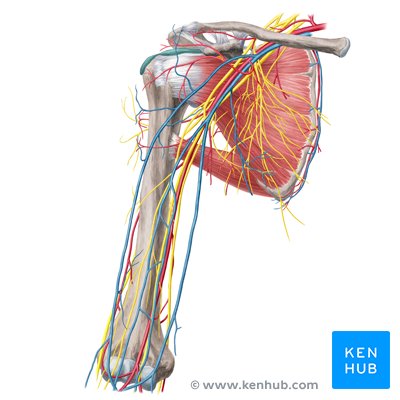 When we say red, blue, yellow–you might associate it with the flag of the Republic of Armenia. But if you're an experienced anatomy student, you'll know that in anatomy atlases blue usually refers to veins, red to arteries and yellow to nerves. Together, veins, arteries and nerves define neurovasculature.
Since sometimes you can get lost in textbooks while studying the extensive networks of neurovasculature, this page will provide you with an exclusive introduction to the intricate network of vessels and nerves that conduct blood and nerve impulses throughout the body. 
Key facts about the major arteries, veins and nerves of the body
Head and neck
Arteries: brachiocephalic trunk, subclavian, common carotid, external carotid, internal carotid arteries
Veins: internal jugular, external jugular, anterior jugular, subclavian and brachiocephalic veins
Nerves: cervical plexus (C1-C5), 12 cranial nerves; olfactory (CN I), optic (CN II), oculomotor (CN III), trochlear (CN IV), trigeminal (CN V), abducens (CN VI), facial (CN VII), vestibulocochlear (CN VIII), glossopharyngeal (CN IX), vagus (CN X), accessory (CN XI), and hypoglossal nerves (CN XII).

Trunk
Arteries: thoracic aorta, abdominal aorta, iliac arteries
Veins: superior vena cava, azygos, hemiazygos, iliac veins, inferior vena cava
Nerves: medial pectoral, lateral pectoral, intercostal, subcostal, phrenic, vagus, pelvic splanchnic nerves, lumbar plexus (L1-L4)

Upper extremity
Arteries: axillary, brachial, ulnar and radial arteries
Veins: basilic, cephalic, radial, ulnar, brachial, axillary veins
Nerves: branches of brachial plexus (C5-T1); musculocutaneous, axillary, radial, median, ulnar nerves.

Lower extremity
Arteries: femoral, popliteal, anterior tibial, posterior tibial, dorsalis pedis arteries
Veins: anterior tibial, posterior tibial, fibular/peroneal, popliteal, femoral, great saphenous, small saphenous, external iliac, common iliac veins
Nerves: 
- branches of lumbar plexus (L1-S4); iliohypogastric, ilioinguinal, genitofemoral, lateral femoral cutaneous, obturator and femoral nerves.
- branches of sacral plexus (L5-S2); superior gluteal, inferior gluteal, sciatic, posterior femoral cutaneous, and pudendal nerves, nerve to piriformis, nerve to obturator internus,  nerve to quadratus femoris.

Major arteries, veins and nerves of the body: want to learn more about it?
Our engaging videos, interactive quizzes, in-depth articles and HD atlas are here to get you top results faster.
What do you prefer to learn with?
"I would honestly say that Kenhub cut my study time in half." – Read more.
Kim Bengochea, Regis University, Denver

© Unless stated otherwise, all content, including illustrations are exclusive property of Kenhub GmbH, and are protected by German and international copyright laws. All rights reserved.