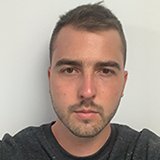 Juan Vélez MD
Medical Content
Juan is a medical doctor with a masters degree in information and communication technologies in health from Universidad CES, Medellín, Colombia.
Dr. Velez has been active as a public speaker in Healthcare Innovation, Public Health and Healthcare Technologies, being an occasional guest speaker at Universidad EAFIT, Universidad CES and Medellín City's healthcare council at "Cluster de salud, cámara de comercio de Medellín". Juan had also co-founded and served as an Innovation Director at Omnivida, a healthcare network management company, where he was focused on healthcare accessibility and patient education.
In 2012, Juan founded Tuvi Digital, which creates educational videos for healthcare students and specialists.
Connect with Juan
Our medical review process
Kenhub helps students from around the world to learn better. We are committed to providing healthcare students with high-quality, reliable and accurate information about the human body. All information on our website is grounded on academic literature and research, validated by experts, and trusted by more than 2 million users. We follow the highest educational and scientific standards. The authors of our articles are medical students, junior doctors, or postgrads who are passionate about anatomy, histology and medical education. Kenhub does not offer medical advice. Read more.