Nervous system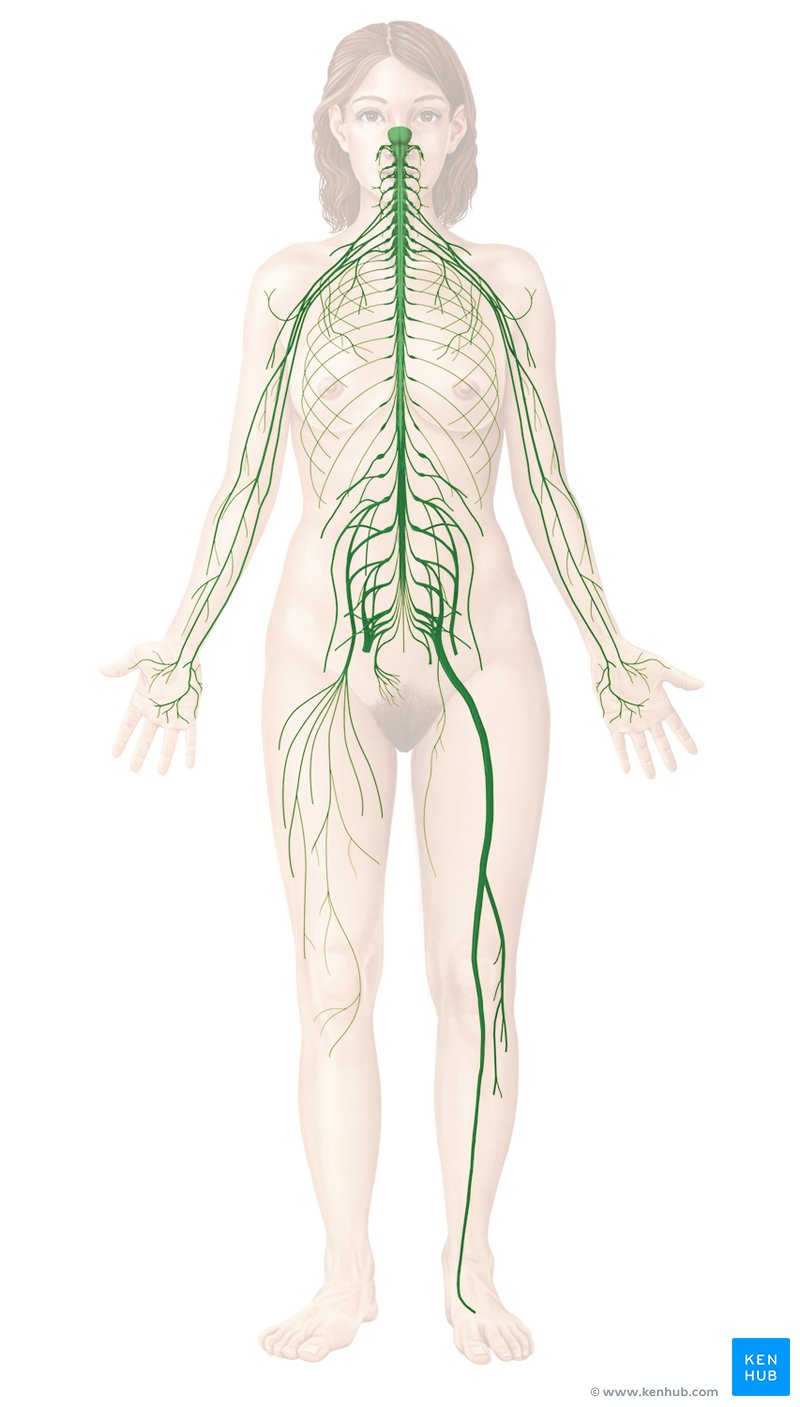 The nervous system is a network of neurons whose main feature is to generate, modulate and transmit information between all the different parts of the human body. This property enables many important functions of the nervous system, such as regulation of vital body functions (heartbeat, breathing, digestion), sensation and body movements. Ultimately, the nervous system structures preside over everything that makes us human; our consciousness, cognition, behaviour and memories.
The nervous system consists of two divisions; 
Key facts about the nervous system
Definition
A network of neurons that sends, receives and modulates neural impulses between different body parts.
Divisions
Central nervous system
Peripheral nervous system
Central nervous system
Brain and spinal cord
Peripheral nervous system
Spinal and cranial nerves.
Functional divisions:
- Somatic nervous system
- Autonomic nervous system; sympathetic, parasympathetic and enteric divisions
Understanding the nervous system requires knowledge of its various parts, so in this article you will learn about the nervous system breakdown and all its various divisions.
Clinical notes
Vagotomy
Vagotomy for gastric ulcers is an old procedure which is used as surgical management in patients with recurrent gastric ulcers when there is no effect of diet alterations or antiulcer drugs. The vagus nerve stimulates the secretion of gastric acid. Three types of vagotomy can be performed which would greatly diminish this effect.
Cranial nerve palsies
The 12 cranial nerves all leave/enter the skull through various foramina. Narrowing of these foramina or any constriction along the nerves course results in nerve palsy. For example, Bell's palsy affects the facial nerve. On the affected side of the face, the patient has:
hemiplegia
dry eyesan absent corneal reflex, overloud hearing and affected taste in the anterior 2/3 of the tongue.
an absent corneal reflex
overloud hearing
affected taste in the anterior 2/3 of the tongue
Limb nerve lesions
Limb nerve palsies often result from fracture, constriction or overuse. For example, carpal tunnel syndrome affects the median nerve, and occurs when the nerve is compressed within the tunnel. This is due to enlargement of the flexor tendons within the tunnel or swelling due to oedema. It often occurs in pregnancy and acromegaly.
Hirschsprung's disease
This is colonic atony secondary to a failure of the ganglion cells (described in the enteric nervous system section) to migrate into the enteric nervous system. This results in a severely constipated and malnourished child, which is in desperate need of corrective surgery.
Spina bifida
Failure of normal development of the meninges and/or vertebral neural arch results in a defect usually in the lumbar spine, where part of the spinal cord is covered only by meninges and therefore sits outside the body. Both environmental and genetic factors contribute to its cause. Folate supplements are now given to all pregnant mothers in early pregnancy for its prevention.
Parkinson's disease
Dopamine is essential for the correct functioning of the basal ganglia, structures in the brain that control our cognition and movement. Parkinson's patients suffer degradation of these dopaminergic neurons in the substantia nigra, resulting in:
difficulty initiating movement
shuffling gait
masked facies
cog-wheel/lead-pipe rigidity in the limbs
Nervous system: want to learn more about it?
Our engaging videos, interactive quizzes, in-depth articles and HD atlas are here to get you top results faster.
What do you prefer to learn with?
"I would honestly say that Kenhub cut my study time in half." – Read more.
Kim Bengochea, Regis University, Denver

© Unless stated otherwise, all content, including illustrations are exclusive property of Kenhub GmbH, and are protected by German and international copyright laws. All rights reserved.