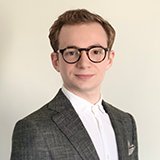 Matthieu Thomas BSc
Medical Content
Matt is a master's student in biomedicine at Lund University, Sweden, and holds a degree from the Maastricht Science Programme with a focus on biomedical sciences. For his bachelor's thesis, he conducted research at the MCL/M4i Institute in Maastricht, The Netherlands, using Electron Microscopy on tumor-derived organoids to study cancer-associated cachexia.
With aspirations of becoming a medical researcher, Matt values high-quality learning materials and contributes to improving resources at Kenhub. Outside of his academic pursuits, Matt enjoys restoring handmade shoes and capturing his town's essence through photography.
Connect with Matthieu
Our medical review process
Kenhub helps students from around the world to learn better. We are committed to providing healthcare students with high-quality, reliable and accurate information about the human body. All information on our website is grounded on academic literature and research, validated by experts, and trusted by more than 4 million users. We follow the highest educational and scientific standards. The authors of our articles are medical students, junior doctors, or postgrads who are passionate about anatomy, histology and medical education. Kenhub does not offer medical advice. Read more.