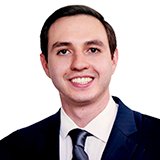 Santiago Nova MD
Medical Content
Dr. Nova is a medical doctor, currently based in Medellin, Colombia. He graduated from Universidad CES, and then completed an internship in radiology at Clínica Las Vegas, one of the hospitals of the Quirónsalud hospital group.
Santiago completed his clinical rotation in diagnostic radiology, radiation oncology and infectious diseases at the Jackson Memorial Hospital, before completing USMLE Step 1 and Step 2 CK.
During 2020, Dr. Santiago Nova acquired a COVID-19 Training for Healthcare Workers certificate from Stanford University. Subsequently, he worked at Clínica CES at the Intermediate Respiratory Care Unit for COVID-19 patients.
Dr. Santiago published clinical cases in Eurorad, a database for peer-reviewed radiological case reports, operated by the European Society of Radiology. 
Connect with Santiago
Our medical review process
Kenhub helps students from around the world to learn better. We are committed to providing healthcare students with high-quality, reliable and accurate information about the human body. All information on our website is grounded on academic literature and research, validated by experts, and trusted by more than 2 million users. We follow the highest educational and scientific standards. The authors of our articles are medical students, junior doctors, or postgrads who are passionate about anatomy, histology and medical education. Kenhub does not offer medical advice. Read more.