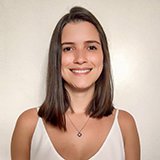 Cinthia Serrano MD
Medical Content
Dr. Serrano is a pediatrician, graduated from Universidad Técnica de Manabí, Ecuador.
From 2014 to 2016, Cinthia worked at the general pediatrics department at Hospital Solca Manabí, Ecuador. In 2016, she relocated to Sao Paulo, Brazil.
Dr. Cinthia Serrano completed two specializations at Instituto Dante Pazzanese de Cardiología: Pediatric Cardiology and Congenital Heart Disease in Adults, as well as Fetal Echocardiography, Pediatric and Adult Congenital Heart Diseases. She has been since working at the department for pediatric cardiology and congenital heart disease in adults.
Connect with Cinthia
Our medical review process
Kenhub helps students from around the world to learn better. We are committed to providing healthcare students with high-quality, reliable and accurate information about the human body. All information on our website is grounded on academic literature and research, validated by experts, and trusted by more than 2 million users. We follow the highest educational and scientific standards. The authors of our articles are medical students, junior doctors, or postgrads who are passionate about anatomy, histology and medical education. Kenhub does not offer medical advice. Read more.